November 20, 2020 By IAN HARPER
GWE Forum Webinar 2: Unlocking the Benefits of Open Weather Data
Following the presentation, webinar participants considered topics such as the implications of open public data to:
developing countries, national meteorological and hydrological services,
the private sector including proprietary data, and
the role of the World Meteorological Organisation at the international level.
About the participants
Prof. Dr. Gerhard Adrian
Prof. Dr. Gerhard Adrian is President of the World Meteorological Organization. He has been President of the German Weather Service (Deutscher Wetterdienst, DWD) since 2010 and also the Permanent Representative of Germany with WMO since 2010.
Prior to that Prof. Dr. Adrian served as German Weather Service Vice-President. From 1999 to 2011, he was the Head of Business Area "Research and Development" and Member of the Executive Board of Directors of the DWD.
He has served as an Adjunct professor of Meteorology at the University of Karlsruhe, Germany, since 2003. He is also the Head of the German delegation to the World Meteorological Congress of WMO, to the Council of the European Organization for the Exploitation of Meteorological Satellites, and to the Council of the European Centre for Medium-Range Weather Forecasts. Prof. Dr. Adrian is a member of the Executive Board of the German Committee for Disaster Reduction and the Board of Trustees at the Max Planck Institute for Meteorology, Hamburg, Germany. He received his graduate degree in Meteorology in 1981 and completed his Ph.D. in Natural Sciences in 1985.
Sameh Wahba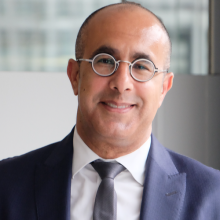 Sameh Wahba, an Egyptian national, is the Global Director for the World Bank's Urban, Disaster Risk Management, Resilience and Land Global Practice, based in Washington, D.C.
The Global Practice, which also covers territorial development, geospatial and results-based-financing issues, has a portfolio of close to $30 billion in commitments in investment projects, program-for-results and development policy lending, and about 450 staff. Prior to this, Mr. Wahba served as the Director for Urban and Territorial Development, Disaster Risk Management and Resilience at the World Bank Group's Social, Urban Rural, and Resilience Global Practice, where he oversaw the formulation of the World Bank's strategy, design, and delivery of all lending, technical assistance, policy advisory activities, and partnerships at the global level.
Download the presentation here >>
Find the summary of webinar here >>
The webinar explored the issues surrounding open data in the context of weather and climate data and services. New government-level policies, such as the European Union Open Data Directive, are likely to have a significant impact on the delivery of meteorological and climate services. There is the potential for unlocking significant socio-economic benefits from the application of such policies.
In his presentation, Prof. Dr. Gerhard Adrian addressed the implications of open data policies from his perspective as the President of DWD.
The webinar was introduced by Sameh Wahba, the Global Director for the World Bank's Urban, Disaster Risk Management, Resilience and Land Global Practice.