Established in June 2017, the City Resilience Program (CRP) – a partnership between the World Bank and the Global Facility for Disaster Reduction and Recovery (GFDRR) – is a multi-donor initiative aimed at increasing financing for urban resilience.
The CRP's vision is resilient cities with the capacity to plan for and mitigate adverse impacts of disasters and climate change, thus enabling them to save lives, reduce losses and unlock economic and social potential. The aim of the Program is to catalyze a shift from a primarily siloed, single-stream city-level resilience operations approach to longer term, more comprehensive, multi-disciplinary packages of technical and financial services, building the pipeline for viable projects at the city level that, in turn, build resilience.
To move towards this vision, the CRP pursues three strategic objectives: 
Planning for resilience: Cities have increased access to tools and technical support to effectively plan for resilience.
Finance for resilience: Cities have increased access to multiple sources of financing to ensure that planned investments in resilience come to fruition.
Partnerships for resilience: Cities can leverage global partnerships to support their resilience objectives.
Read More
Planning for resilience
Cities face a multitude of challenges that are inherently multidisciplinary, complex and interdependent in nature. To effectively manage these challenges and support resilient urban development, the impact of climate and disaster risks must be addressed through a multi-sectoral lens. The approach used by the CRP represents an effort to undertake a fundamental shift in supporting cities to tackle pressing development challenges. Instead of focusing on sectoral priorities, CRP pursues an integrated and spatially-informed approach which captures the interplay between the natural and built environments.
As a starting point for engaging with cities on resilience planning, the CRP has developed the City Scan, which combines large amounts of spatial and socio-economic information pertinent to city-level decision-makers to inform initial dialogue around urban resilience challenges. The City Scan enables cities, World Bank teams, and development partners to engage in preliminary dialogue about natural hazards and disaster risks in key sectors and geographic areas which need to be addressed through coordinated investment.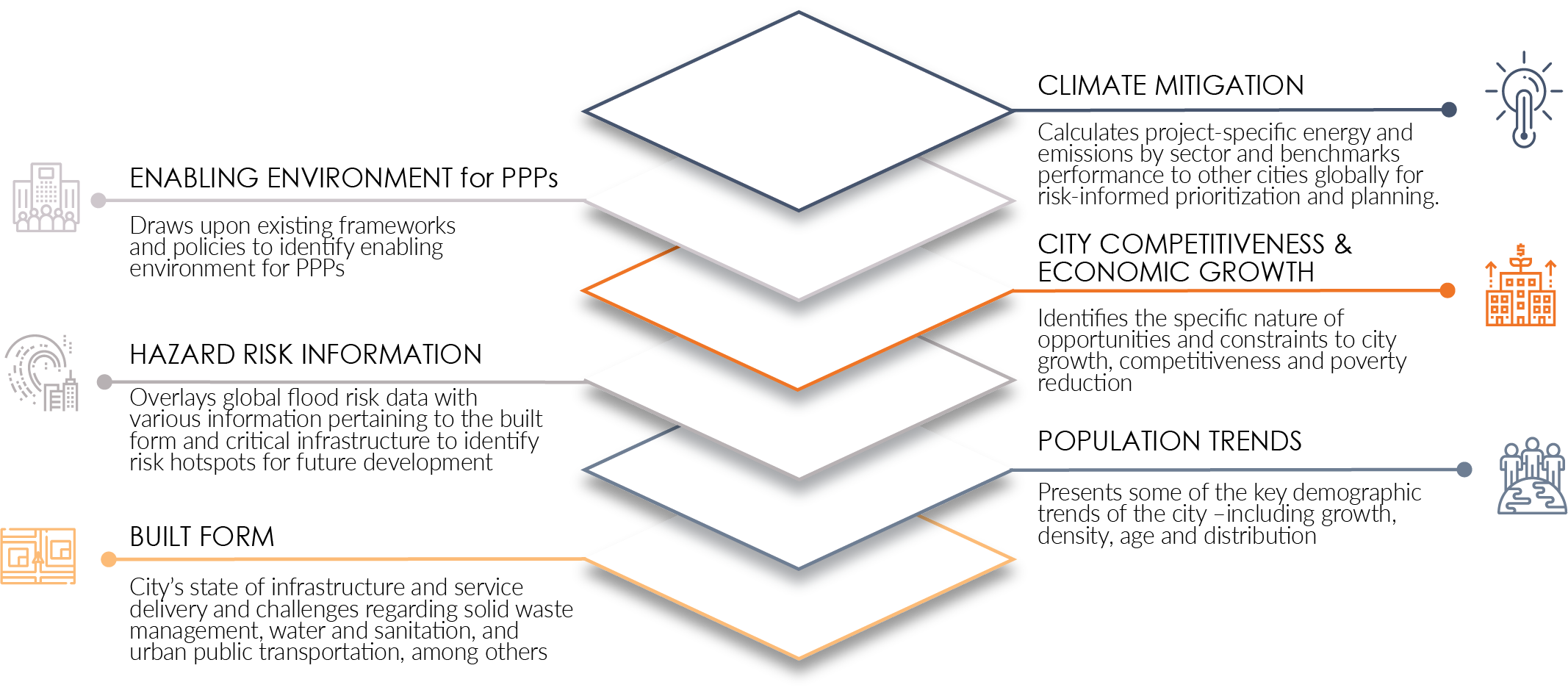 ​
This process is taken further through a workshop series focusing on resilience planning, where participating cities benefit from a diverse range of technical expertise to help package, prioritize and design resilience-enhancing investments anchored on World Bank loans.
Moreover, the CRP supports the incubation of technical teams in areas of strong demand (e.g. emergency preparedness and response) and works to streamline procurement and internal processes to ensure that cities can receive quick and robust technical support throughout the project cycle. In addition, the CRP develops innovative geospatial tools, case studies, and knowledge products which serve to strengthen the analytical foundation of resilience-informed investment planning and expand the suite of tools available to cities.
In Focus: Resilience Investment Planning Workshop, Durban, South Africa
In November 2018, the CRP's first Resilience Investment Planning Workshop took place in Durban, South Africa. The one-week interactive workshop focused mainly on the Planning for Resilience thematic area of CRP. It brought together officials representing eleven cities around Africa to discuss and refine their s infrastructure investment options in the urban resilience agenda. City delegates were joined by their respective World Bank Task Team Leaders and had access to internal and external technical experts in the areas of solid waste management, housing, urban mobility, geospatial solutions, or urban service delivery and municipal finance, among others.
The workshop featured a mix of ignite presentations, problem and risk mapping and solutions visioning, identification of potential investments and respective investment plans. It resulted in a list of priority infrastructure investments and project proposals for each participating city with preliminary technical and financial specifications. Financing needs identified in these proposals amounted to over $4.8 billion, highlighting the significant need to provide cities the adequate access to capital to fund urban resilience investments.
Aligned with its objectives, the workshop provided the platform to connect decision makers with the relevant and adequate expertise. The interactive format allowed and enabled concrete and tailored support to cities from the technical experts, allowing participating cities to visualize more concretely what approaches could result in more comprehensive, risk-informed investment planning for them.
The workshop also hosted the launch of the newly developed City Scan tool, as a conversation starter and eye opener for risk communication with cities. Furthermore, the pitch day demonstrated that many of the represented cities had concrete project ideas with potential to mobilize private capital. After the workshop, CRP engaged with its financial advisors to seek a path forward to develop these concepts further into well-prepared, risk-informed and bankable projects.
Finance for resilience
The global infrastructure deficit is well documented and nowhere more acute than in the rapidly urbanizing poorer countries in Africa and Asia. Acting alone, governments often struggle to develop a pipeline of high-quality projects that can attract private sector involvement. Though government funding and capacity in many countries are constrained, with appropriate support there may be an opportunity for governments to involve private sector partners to help deliver, maintain, and finance part of this gap. For many lower income countries, there is a shortage of attractive investment opportunities in all areas of urban infrastructure, particularly those that respond to the pressures of rapid urbanization and climate change.
The CRP supports the provision of upstream operational and technical support focused on mobilizing public and private financing around a broader resilience agenda. The CRP does this through a three phased engagement process to mobilize financing comprising: i) upstream general legal and capacity analysis related to project financing in a specific city and strategic guidance to project teams on potential areas for expanded financing for urban resilience projects in the city; ii) financial and regulatory analysis related to a specific project concept; and, iii) specific transaction advisory services.
CRP's main outputs under this thematic area are workshops discussing options to mobilize finance, deployment of tools such as the completion of rapid diagnostics such as Rapid Capital Assessments (RCAs), and tailored technical assistance. Activities include assistance to identify potential for private capital mobilization through financial advisory services conducting regulatory review, market testing, financial modeling, building the business case, and supporting a potential identification and deployment of financial de-risking mechanisms.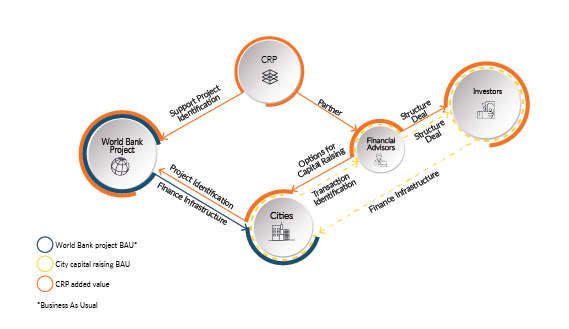 ​
In Focus: Financial Solutions for City Resilience Conference, Bangkok, Thailand
From 9-13 July 2018, the Financial Solutions for City Resilience Conference in Bangkok, Thailand brought together delegates from 20 cities, World Bank task team leaders, technical experts from global financial advisory companies, and private developers to discuss and refine infrastructure financing options in the urban resilience agenda. The conference objective was to help cities navigate a range of options for deploying private capital in resilience building and identify opportunities of mobilizing private finance in cities' capital plans. The conference focused on each type of financial instrument, based on case studies of how these instruments have been used in different markets.
Ahead of the conference and for each participating city, the CRP team carried out an assessment to better understand: i) the real estate market environment and how it enables implementation of various land value capture tools; ii transparency of land and real estate pricing; and iii) the track record of cities' engagement in direct negotiations with private investors including deployment of land-based financing tools (development contracts with infrastructure conditions, assessing impact fees, development charges, etc.). The information collected throughout these assessments was instrumental in tailoring the agenda to the specific needs of participating cities, including contents of working sessions, composition of subject-specific working groups, etc.
At the conference, city delegates had access to technical experts in areas of capital budgeting, municipal finance, land value capture, and PPPs/concessions, who discussed concepts and methods of deploying private-sector financing in the resilience-focused capital investment plans. The event culminated in a "shark tank" event on the final day where city leaders presented their investment ideas to a panel of financial advisors who gave feedback on how to structure the resilience investment opportunities. The conference outputs were integrated into subsequent capital mobilization efforts with the aim to further elaborate and verify the feasibility of identified infrastructure transactions and advance with transaction structuring.
Financial Solutions Marketplace Cohort 1
Partnerships for resilience
For many client cities around the world designing attractive investments remains a challenge. As such there is a strong demand from cities to support upstream work to help prioritize resilience in their long-term planning.
CRP cooperates with partners who have an interest in urban development and disaster risk management, and priorities in financing efforts aimed at urban resilience, capital mobilization, private sector development and innovation.
The Program supports activities which expand partnerships for urban resilience, including promoting technical and financial collaboration across World Bank Group units; outreach to International Finance Institutions (IFIs), development partners, private sector investors, technology firms and other urban resilience actors.
In Focus: Resilient City Development (RECIDE)
The markets of most CRP target cities are often not sufficiently developed to enable the flow of capital into infrastructure projects. While there may be strong interest to invest, investors find it difficult to deploy their capital because transaction opportunities are sporadic, unpredictable, and widely dispersed across sectors. Several market barriers make transaction costs higher than desired returns. A prevailing lack of risk data and transaction track records increases potential stakeholders' hesitation to invest.
To address this issue, over the past year, the CRP has started to work on supporting de-risking mechanisms, namely guarantees for incentives for private sector participation, under the Resilient City Development Program (RECIDE), a partnership in preparation between the Spanish Development Agency (AECID) and the World Bank.
RECIDE is an effort to assist city governments in African and EU Southern Neighborhood countries to build greater resilience to climate and disaster risks and to attract more private sector financing solutions, with a priority around investments in flood protection, solid waste management, sustainable transport, and sustainable energy. The program attempts to target situations where infrastructure gaps represent untapped opportunities for private-sector engagement, provided that an appropriate investment planning and risk mitigation platform is in place.