City representatives from across Africa, experts, clients and partners attending Resilience Planning Workshop in Durban, South Africa.
26 cities, 20 technical teams, 6 International Financial Institution gathered in Madrid, Spain for an immersive week of knowledge, ideas, and networking. 
Bigger and Better Investments for a Resilient Future
By 2030, without significant investment into making cities more resilient, natural disasters may cost cities worldwide $314 billion each year, and climate change may push up to 77 million more urban residents into poverty. The City Resilience Program aims to empower cities to pursue comprehensive investment programs to strengthen resilience, and to access a broad range of financing options.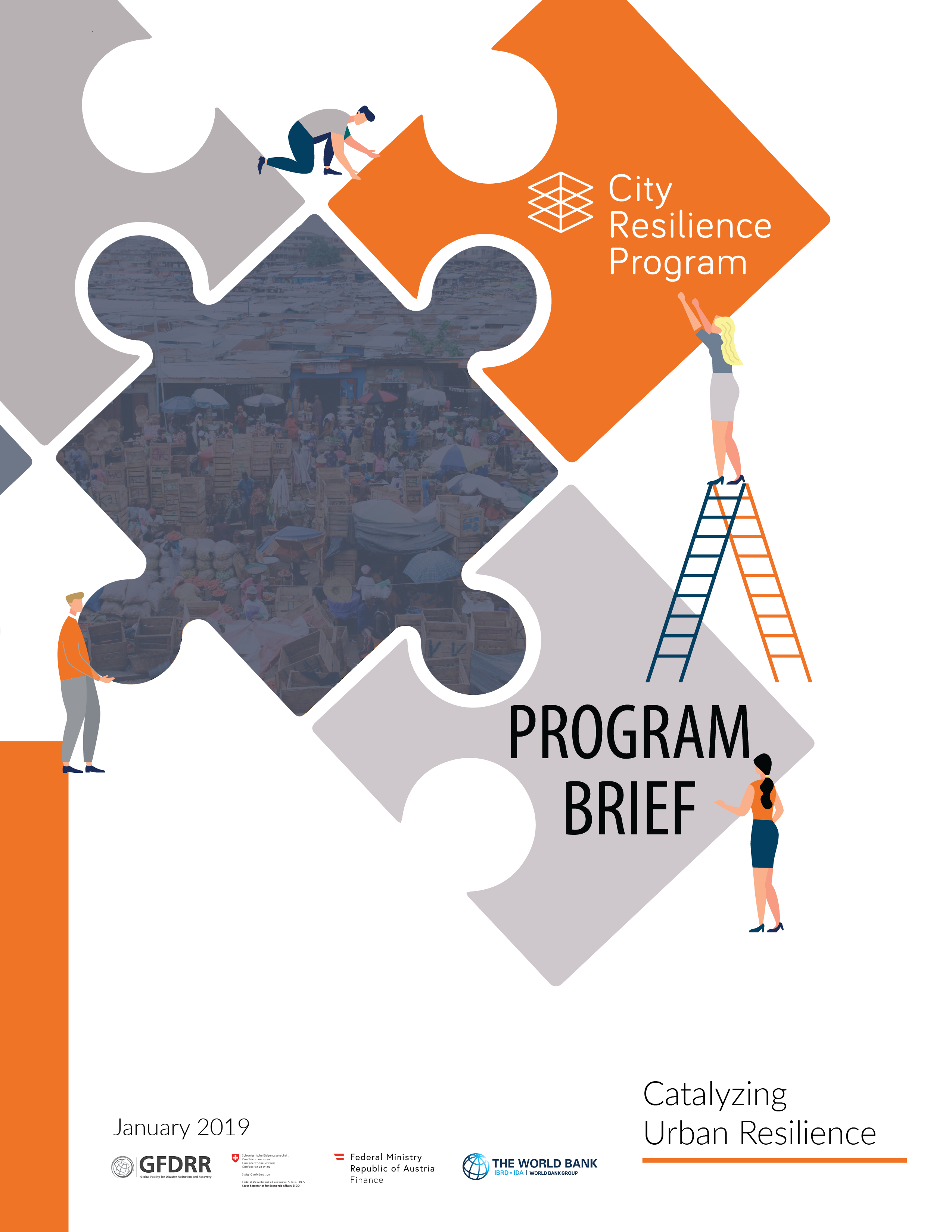 CRP's vision, approach and results achieved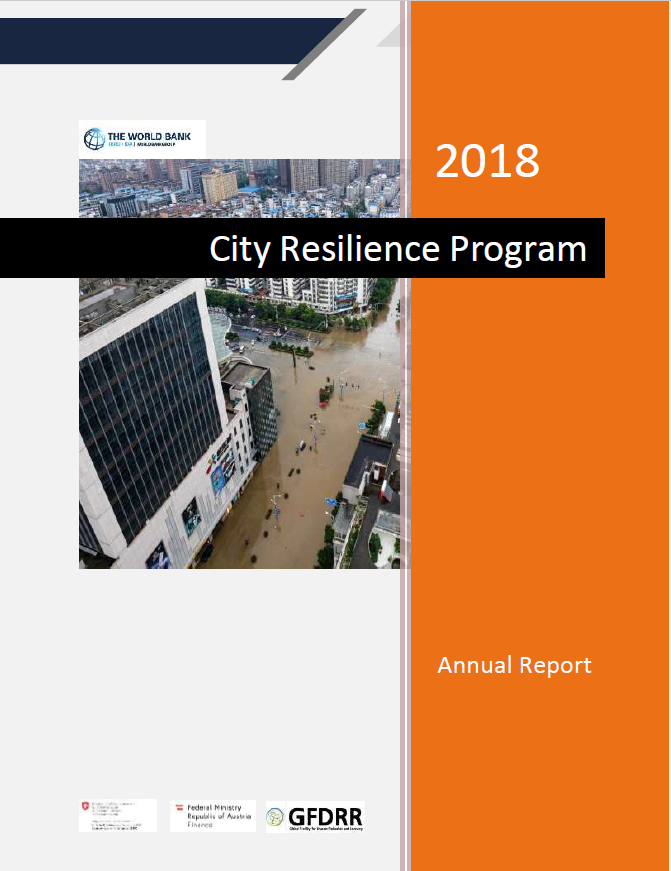 This report summarizes achievements and next steps of the Multi Donor Trust Fund
CRP Flagship Event
November 26-30, 2018  | Durban, South Africa

CRP aims to improve upstream urban planning and integrate resilience by working across sectors to identify and address key challenges. Following its City Resilience Scan, CRP convenes city leaders from 11 African cities, world Bank Task Team Leaders and KSB team leads to exchange knowledge and design investment programs

Event
September 6-7, 2018 | Bern, Switzerland

CRP Partner Meeting

CRP's first partner meeting takes place in Bern, Switzerland in collaboration with SECO. Meeting discussed CRP's program development and results achieved over the past year, lessons learned, and strategies moving forward.

crp flagship Event
September 6-7, 2018 | Bern, Switzerland

The Second Financial Solutions for City Resilience brought together delegates from 20 cities, World Bank task team leaders and financial advisors. Built on experiences and feedback from the first conference, this second conference is better tailored towards city needs.

Event
May 14 - 18, 2018 | Mexico City, Mexico

Join us at the stunning Palacio de Minería for the fifth global UR forum. UR is a global community of 7,000+ experts and practitioners active in the creation, communication, and use of disaster risk information. The community convenes every two years at UR Forums – five-day events that highlight groundbreaking work, facilitate nontraditional partnerships, and showcase new technical know-how in disaster risk identification. The theme of this year's forum is communicating risk.

Event
April 20th, 2018 | Washington, DC

Cities want to build resilience. Markets are looking for investment opportunities. How can we bring them together? To investigate how cities can better access non-traditional sources of financing for resilience, and thereby enable investors to enter new markets, this event will showcase key issues faced by major global cities in building their resilience, and give the audience a front-row seat to insights from investors on cities can attract the resources they need for success. Stream live online.

Event
April 5th, 2018 | Washington, DC

Social, Urban, Rural, and Resilience Global Practice Knowledge Silo Breaker (KSB) Fair (World Bank Internal)

The City Resilience Program showcased their work and won the "People's Choice Award" for the best KSB.

News
January 28, 2018

Jim Yong Kim, the World Bank's president, is trying to revitalize the Institution. His reform ideas are mainly characterized by his ambition to crowd in private investors — sovereign wealth funds, private equity firms and insurance companies — to pony up trillions of dollars for projects, instead of relying on traditional donor money from developed countries. At the Paris Environment Summit, President Kim presented some of World Bank's "deals" to secure financing with private support. The City Resilience Program was one of them.

Event
January 22-26, 2018 | Belgrade, Serbia

Second Technical Knowledge Exchange

CRP's Resilient Transport Working Group convened a one-week workshop with twelve client countries and Transport GP Task Team Leaders. The workshop discussed how TTLs can can integrate the four phases life cycles approach to build disaster resilience infrastructure. and the resilience of their transport networks.

News
December 14, 2017

This Reuters article specifically reported on the City Resilience Program following the Paris One Planet Summit, emphasizing how CRP, as an innovative initiative, will help make resilience projects "bankable" and attract additional financial resources.

Event
December 12, 2017 | Paris, France

The City Resilience Program was introduced by President Kim during the One Planet Summit, as one of the World Bank Groups's twelve "Transformative Twelve" "Deal Hub" program that provides innovative solutions to crowd in investments to scale up climate action. The government of Panama City and Porto Alegre, along with their CRP counterparts, also presented their cities' investment opportunities during the summit.

Blog
December 4, 2017 | World Bank: Sustainable Cities

Rapid urbanization has presented city leaders with an unprecedented challenge. Cities need to provide not only basic services to the growing population, but also remain resilient in order to weather the growing threat from climate change and natural disasters. The City Resilience Program provides innovative solutions to financing urban resilience, which was discussed during the Financial Solutions for City Resilience Conference.

Event
November 6-17, 2017 | Bonn, Germany

The UN Climate Change Conference in Bonn is the next step for governments to implement the Paris Climate Change Agreement and accelerate the transformation to sustainable, resilient and climate-safe development. This conference further clarified the enabling frameworks that will make the agreement fully operational and the support needed for all nations to achieve their climate change goals. As an important initiative to climate action, CRP and the Comprehensive Financial Solutions for City Resilience Conference were presented, with panelists from PWC, Bangkok CRO and the mayor of Mauaus. (Image: United Nations)

crp flagship Event
November 6-11, 2017 | Bangkok, Thailand

 

The Comprehensive Financial Solutions for City Resilience Conference, organized by the World Bank Group's City Resilience Program, brought together city officials, private sector experts, donors, and investors to prepare for ambitious investments in urban resilience. The aim of the conference was to allow city leaders think through innovative ways to crowd in private sector resources to invest in urban resilience.