For small island states, climate and disaster resilience is more than merely a budgetary safeguard – it's an economic imperative. Losses from major disaster events can easily exceed 100 percent or more of gross domestic product (GDP) for these particularly vulnerable countries, and set back development goals by decades or more. To strengthen resilience for Pacific Island Countries (PICs), the Global Facility for Disaster Reduction and Recovery (GFDRR) has been developing targeted initiatives to bolster disaster preparedness and response, especially through innovative financial protection instruments.
Recently, thanks to support from GFDRR and other partners, the World Bank's Board of Executive Directors approved US$32.29 million in International Development Association (IDA) grants and credits to support the Pacific Resilience Program – a series of projects to increase PIC's resilience to natural disasters. This support will strengthen early warning and preparedness; retrofit key public assets to meet international resilience standards; create a framework for smarter investment in resilience activities; and improve financial resilience by enabling access to an immediate injection of cash for post-disaster recovery.
Reducing the fiscal risks associated with natural disasters and climate change is of special importance for PICs, given their exposure to natural hazards. Since they are especially vulnerable to cyclones, tropical storms and volcanic eruptions, PICs suffer an average disaster damage of more than US$280million per year. When a disaster strikes, governments in these countries often struggle to secure liquid funds for swift post-disaster emergency response: they are constrained by their small populations, limited borrowing capacity, and access to international markets, as well as the small size of local economies.
PICs have repeatedly encountered the need for effective financial tools to respond to natural disasters. In the Cook Islands, in the immediate aftermath of Tropical Cyclone Pat in 2010, a delay in the receipt of travel funds meant that key government personnel could not immediately start their initial damage assessment. After Tropical Cyclone Vania in 2010, Vanuatu had to reallocate a significant amount of its national budget. Similarly, Fiji and Samoa had to realign its budget in the wake of Tropical Cyclone Evan in 2012 and 2013.
On March 13, 2015, Tropical Cyclone Pam – a Category 5 storm – tore through Vanuatu, severely damaging several provinces in the archipelago. Just two weeks later, on March 30, the World Bank Group provided the government of the country with a US$1.9 million payout under the Pacific Catastrophic Risk Insurance Pilot, ensuring that the country would have ready cash to handle immediate crisis-response needs. Tonga was the first country to benefit from such a payout after Tropical Cyclone Ian swept across the country's Ha'apai island group on January 11 and 12, 2014.
The insurance pilot program is part of a broader GFDRR-supported initiative in the region – the Pacific Catastrophe Risk and Financing Initiative (PCRAFI) – that aims to reduce the financial vulnerability of Pacific Island Countries (PICs) to natural disasters by providing specific financing and physical disaster risk management tools.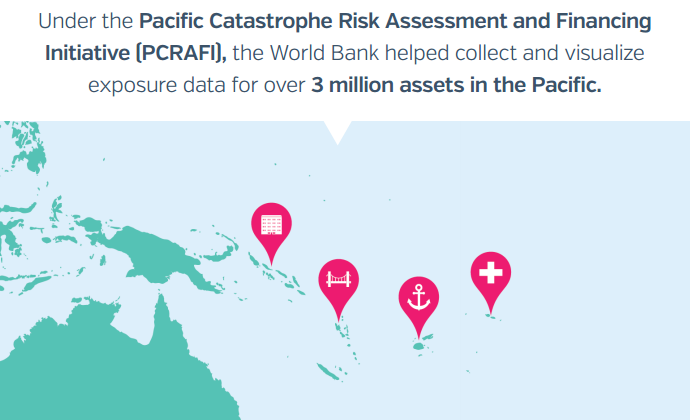 As another step in supporting the islands to be better prepared to manage these costs, GFDRR helped launched a new report PCRAFI 2015 – Disaster Risk Financing and Insurance in the Pacific. This new report examines the public financial management of natural disasters in seven PICs: the Cook Islands, Fiji, the Marshall Islands, Samoa, the Solomon Islands, Tonga and Vanuatu. The initiative helps build understanding on how existing risk-financing tools are used in the Pacific, identifying gaps where engagement could be further strengthened to increase financial resilience after natural disasters. It also provides a set of key recommendations for cost-effective and sustainable disaster risk financing solutions in the region.
The report shows that, to help build a country's financial resilience against natural disasters, a mix of domestic tools, such as dedicated reserves for disasters, should be complemented with international risk-transfer instruments such as catastrophe risk insurance. One instrument alone is unlikely to overcome the financial constraints faced in the immediate aftermath of a disaster. Optimal DRFI strategies need to combine both pre-disaster and post-disaster arrangements in a way that allows a country to respond efficiently to disasters of different frequency and severity.
Since natural hazards are destined to continue striking PICs, DRFI instruments developed under PCRAFI can help these vulnerable economies better manage the fiscal and economic uncertainties associated with natural disasters. The World Bank Group is committed to further supporting PICs in strengthening the public financial management of such risks.
"The cash received from the Catastrophe Risk Insurance Pilot made an important financial contribution for carrying out the government strategy for mitigating natural disasters, and ensured that response efforts to help the people of Ha'apai recover and return to their normal everyday lives could continue without interruption or delay," says Minister for Finance and National Planning in Tonga, Hon. Dr. 'Aisake Valu Eke.
Launched in 2006 in response to a request from 15 PICs, PCRAFI is made possible through the collective efforts of the World Bank Group's Disaster Risk Financing and Insurance (DRFI) Program, the Secretariat of the Pacific Community, the Government of Japan, GFDRR, and the Africa Caribbean Pacific – European Union (ACP-EU) Natural Disaster Risk Reduction Program, an initiative of the ACP Group of States, funded by the EU and managed GFDRR.
With support from programs like PCRAFI and the Pacific Resilience Program, vulnerable island countries throughout the Pacific are developing the tools for resilience they will need to mitigate growing risks from climate and natural disasters, and ensure a safe and prosperous future.