The classroom is buzzing with excitement and energy! Students at "Vardanants Aspetner", Yerevan basic school No. 106, glance periodically at each other and grin, as they eagerly play the Super David e-game. Each of them is busy competing for the highest score in the game.
The Super David initiative was supported by the GFDRR-managed Japan-World Bank Program for Mainstreaming Disaster Risk Management. The e-game was designed by the Dasaran educational platform for a very practical purpose: to help raise awareness among children about natural disasters and to equip them with the basic knowledge and readiness for emergency situations.
"Nowadays you can motivate and engage children through e-games," says Alina Sahakyan, the children's tutor. "It creates a sense of competition, so that they become immediately focused and start learning enthusiastically. We have several class hours dedicated to addressing the topic of natural disasters and this game is a wonderful tool for us."
The e-game consists of a range of questions and challenges dedicated to eight types of natural disasters: earthquakes, fires, lightning, landslides, floods, storms, rain deluges, and rock falls. By correctly answering the questions, students can earn stars and, after completing all eight stages of the game, they win the "super" award. The game is designed for students from the first-grade up.
Samvel Babajanyan, an eighth-grade student, is a highly active player. With his classmate Louisa Manukyan, they formed a team and quickly answered each of the game's questions. After passing each stage of the game, they jubilantly shared the news with everyone else in the classroom. Earning 63 stars, the maximum number, Samvel won the super title.
"I found it easy to answer the questions on lightning and difficult to get through the queries on rock falls," exclaims Samvel. "By the way, when you win, Super David gives you a 911 helicopter. It's fun!"
The implementation of the e-game project was led by Rima Sargsyan. She says that the prototype for David was the character "David of Sassoun" in Armenia's national epic poem, "Daredevils of Sassoun". Like David of Sassoun – who overcomes challenges to help people – Super David guides students in preparing for natural disasters. In the e-game, "Qurkik Jalali", David of Sassoun's horse, and "Tur Ketsaki" (Bright Lightening Sword), his sword, are represented by knowledge, skills and the ability to quickly figure things out in various challenging situations.
"The character of Super David was introduced by the Ministry of Emergency Situations (MES) to school students across Armenia, so we decided to keep his characteristics and make him a little bit more modern," says Rima.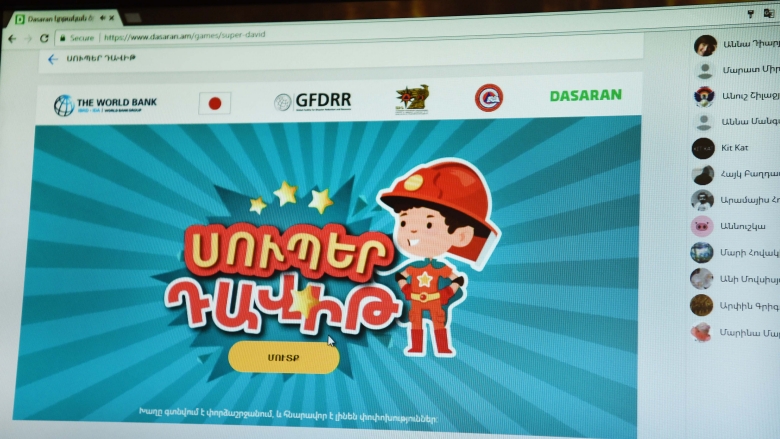 Lousine Matosyan, another eight-grade student, has studied natural hazards using several online resources – all with a view to helping her win the game. "The questions are appealing, prompting what to do and how to behave in an emergency. And, memorizing throughout the game is easy. I like David's character!" she says.
Gayane Harutyunyan, a sixth-grade student from another school, Yerevan basic school No. 173, has learned how to help people during disasters. "I am not scared anymore, and I know that panic only worsens the situation. I know have to try to provide first aid and then call 911," says Gayane.
The Super David e-game was created in just five months by the Dasaran Program team, who had conducted rounds of consultations with students to identify their basic needs and interests. The team also worked closely with professionals from the Ministry of Emergency Situations.
The e-game is hosted by the Dasaran.am website and open to over one million registered users from around 1,500 schools across Armenia. Moreover, the creators launched an official webpage on Dasaran.am to help students learn more about disaster risk reduction. On the webpage, Super David can be seen traveling all over Armenia and sharing his experience in how to behave in various emergency situations.
"If you are outside, how far should you run away from buildings during an earthquake?" Super David asks his followers, before engaging in a conversation to reach the right answer ("about 20 meters)".
"The game has been available for almost a month now, and it has been played over 400,000 times," says Suren Aloyan, Founding President/CEO of Dasaran. "This number exceeds all of our expectations!"
The e-game is accessible on Facebook, and scores achieved during the game can be shared on Twitter. There are also plans to introduce multi-language support and to develop a mobile app version of the game (iOS and Android).
Game Over. Play Again?
-------------------------------------------------  
The Super David initiative was designed through the World Bank National Disaster Risk Management Program, supported by the Japan-World Bank Program for Mainstreaming Disaster Risk Management in Developing Countries (administered by GFDRR). It was launched in 2015 and encompasses various activities to develop people's resilience towards natural disasters.