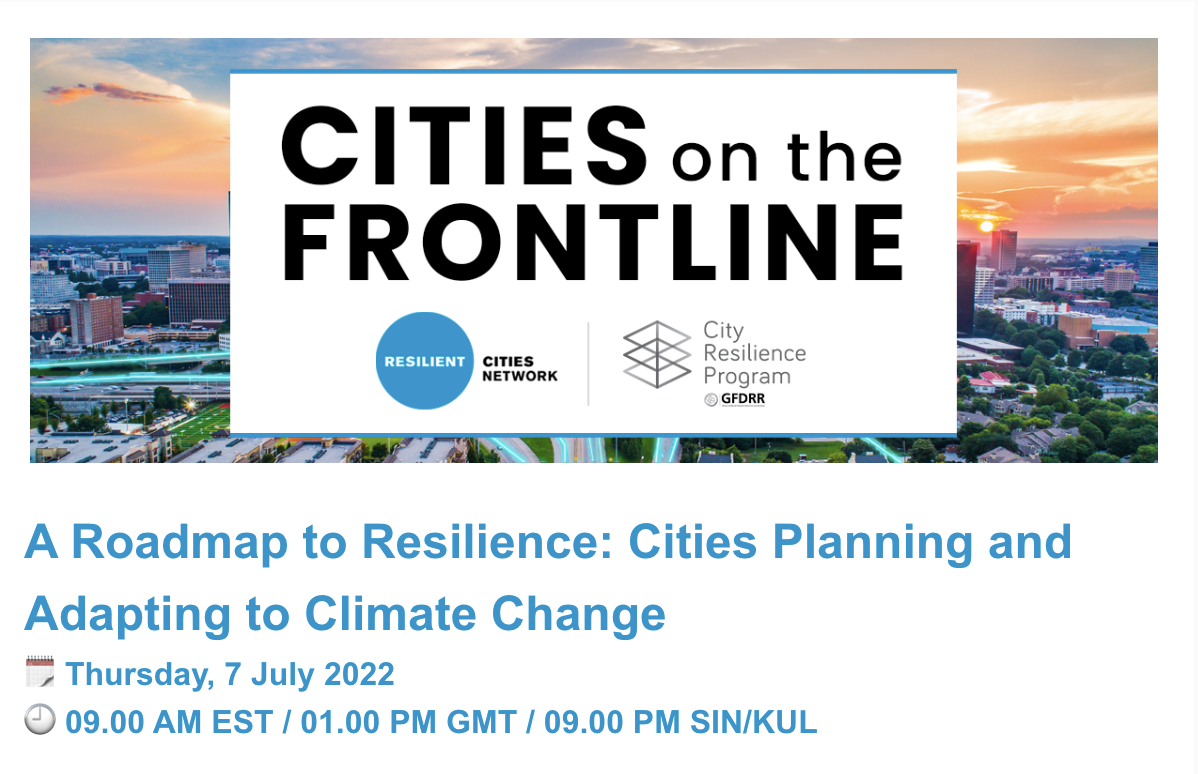 To deliver on their climate goals and respond to their urban resilience challenges, cities have undertaken an iterative and collaborative process to draft strategic planning documents establishing a path to climate action. These roadmaps are most often the result of broad consultations and engagement with the various communities and stakeholders in a city, including government, business, and civil society. They aim to identify the risks and challenges posed by climate hazards and propose mitigation and adaptation measures that the city can take to address them.
 
The ninth Cities on the Frontline session of 2022, jointly organized by Resilient Cities Network and the City Resilience Program, will focus on Cities Planning and Adapting to Climate Change Through the implementation of Resilience Road Maps and will allow city stakeholders to hear directly from officials that have participated in the process, understand the specific challenges their cities face, and see what steps they are taking to adapt.

Featured Speakers
This session will feature interventions from Elisabeth Gruber, the Director of the Department for International Financial Institutions at the Austrian Federal Ministry of Finance; Johannes Lutter the Head of Department of Urban & Mobility at Urban Innovation Vienna and James Kwame Mensah, Senior Lecturer at the Department of Public Administration & Health Services Management of the University of Ghana Business School & former Chief Resilience Advisor to the City of Accra.

Register here. 
***
Cities on the Frontline is a virtual thought leadership speaker series. The series, which began in 2020 co-organized by the Resilient Cities Network and the World Bank Group's City Resilience Program, provides city practitioners and the industries and residents that they support, an understanding and means for responding to the pandemic and associated stresses, as well as solutions for planning towards a more resilient recovery.
For questions, please contact: media@resilientcitiesnetwork.org 
Resilient Cities Network is the world's leading organization working in urban resilience. Present in more than 90 cities, 40 countries, and 6 continents, R-Cities is a global city-led nonprofit organization that brings together knowledge, practice, partnerships, and funding to empower cities to build a safe, equitable, and sustainable future for all.