Solomon Islands: Community Resilience to Climate and Disaster Risk Project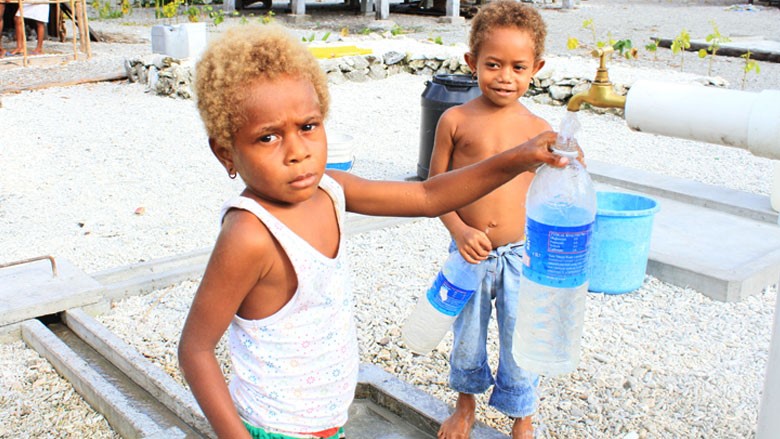 Context and Objectives 
The objective of the project is to increase the resilient capacity of selected communities to the impacts of climate change and natural hazards. The project aims to strengthen government capacity in disaster and climate risk management, and by implementing disaster risk reduction (DRR) and climate change adaptation (CCA) investments in  selected high-risk communities in Guadalcanal, Temotu, Malaita, Central Islands and Bellona provinces.
Main Activities
Reform of Institutional Arrangements: The project is providing support on disaster risk management and climate change adaptation institutional arrangement reform. The Disaster Risk Management (DRM) specialist is working to: progress with activities integrate DRM and CCA within the government, and to conduct a review of the National DRM plan of 2010. DRR and CCA will also be mainstreamed in sectoral planning and budget, with a focus on the health sector.
Upscaling Seismic Monitoring. 
Investing in Community and Provincial sub-projects:  Climate change adaptation and disaster risk reduction investments in targeted communities are made more resilient to climate change and natural hazards. This is done by:

Improving access to risk information, analysis, design, advisory and supervision support for investments and disaster/climate risk management plans,
Implementing community led investment activities for risk reduction,
Developing and implementing provincially-led rural investment projects that will benefit multiple communities.
Results
Reform of institutional arrangements:
A review and update of the National Disaster Management Plan of 2010 has been completed, which was endorsed by the National Disaster Council in April 2018, and is now in use to provide guidance on the provincial set-up for DRM activities
Seismic Monitoring
Seismic monitoring equipment was procured for five monitoring stations
A national risk information system was developed and is in operation
An emergency radio communication system is now in operation.
The database for risk information was strengthened, and the National Disaster Management Office is now connected to the database 
Volcanic and seismic monitoring equipment has been installed in seven stations and is transmitting real time data to the central base station.
Community and provincial sub-projects investments:
Community-DRM planning has been completed for all 55 targeted communities.
6 community-led water supply investments have been completed.
28 community-led sub-projects (on water supply, evacuation shelters, all-season access to foot bridges, and shoreline protection) are completed and 28 are well under way.
Partnerships and Coordination
Coordination and liaison with partners and other stakeholders including government agencies, donor agencies and other project teams (i.e., the Rural Development Program) is ongoing:
Liaising with Ministry of Health: The project has been engaging with the Ministry of Health to mainstream resilience in their planning processes. Discussion on the creation of a new Risk Reduction Officer position at the ministry is progressing well and a Terms of Reference has been drafted. The Ministry has a 4 years strategic plan which includes consideration of resilience as a key objective and this position will undertake vulnerability and risk assessments of existing hospital/clinic facilities and mainstream resilience into the ministry's planning and budget.
Coordination with other Programs: The Project team meets regularly with the Rural Development Program project team, to ensure resources are efficiently shared between the two team in order to maximize efficiency (i.e., fiduciary and technical resources). In addition, the Project is assessing the short term solutions to the water shortage in Renbell and Belonna as well as the longer term measures that could be taken to strengthen the resilience of the communities in line with the objectives of the CRISP. The assessment will ensure good coordination with ongoing initiatives, such as the Solomon Islands Water Sanitation Adaptation Program (SIWSAP), which is being implemented by the UNDP, to avoid duplication.
Useful Links
A Results in Resilience Story is accessible here.
Country
Priority area
Mainstreaming of disaster risk reduction (DRR)