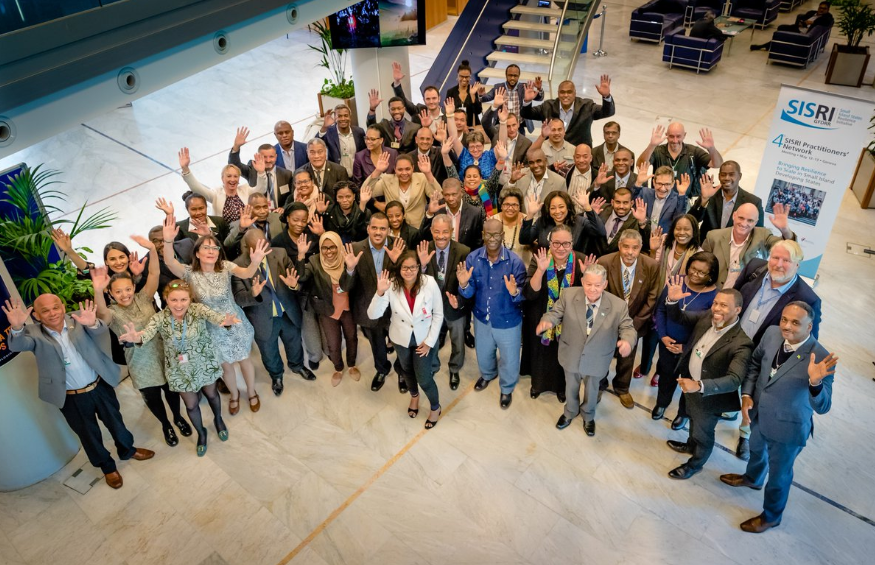 Group photo taken at the close of the SISRI practitioners meeting in Geneva on 12-13 May 2019
Photo credit: GFDRR

In the frame of the Small Island States Initiative (SISRI), the ACP-EU NDRR Program co-financed the Fourth SISRI Practitioners' Network meeting which took place in Geneva on 12-13 May 2019, as a side event of the fourth edition of the World Reconstruction Conference and the 2019 Global Platform for Disaster Risk Reduction.
The meeting brought together over 60 participants from 29 SIDS to exchange challenges and solutions, and to discuss how to scale up efforts for climate and disaster resilient development. The meeting had the objective to: (i) exchange experiences and good practices developed by small island states to make development climate and disaster resilient; (ii) facilitate peer-to-peer learning to support effective design and implementation of climate and disaster resilient investments and policy interventions and; (iii) further strengthen the community of practice between small island states' practitioners.
The meeting was co-sponsored by the European Commission (EC) and co-organized by GFDRR/the World Bank, the United Nations Office for Disaster Risk Reduction (UNDRR), the World Meteorological Organization (WMO) and the United Nations Office of the High Representative for the Least Developed Countries, Landlocked Developing Countries and the Small Islands Developing States (UN-OHRLLS).
A range of topics were covered during the meeting which enabled to bring forward the following takeaways: (i) risk-based decision-making is vital for helping SIDS prioritize resilience investments; (ii) innovative financial instruments and private sector engagement are key to sustaining resilience investments; (iii) boosting implementation capacity must go hand-in-hand with resilience-building; and (iv) inclusive and gender-responsive resilience planning will help ensure that no one is left behind.
A World Bank blog post about this event can be found here.