Vanuatu: Rapid Post-Disaster Needs Assessment - Tropical Cyclone Pam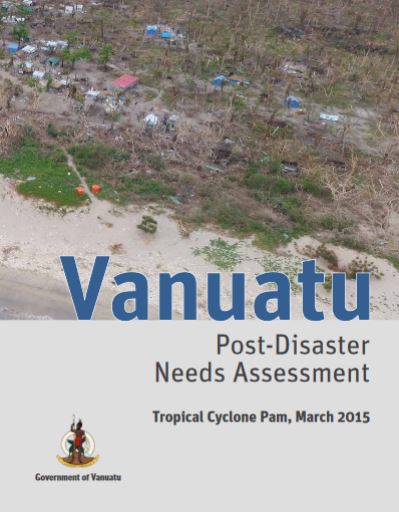 Context and objectives 
The objective of the Post-Disaster Needs Assessment (PDNA) was to:
Assess the socio-economic impact of Tropical Cyclone Pam including quantifying the damage and loss in critical sectors of the economy;
Identify priority needs for critical sectors of the economy with a particular focus on resilient recovery and reconstruction activities, with indicative costs where possible;
Identify potential financing gaps and needs;  
Review current disaster risk management capacity and propose a strategy with measures to reduce risks and;
Maximize the climate and disaster resilience of recovery and reconstruction activities.
Main activities and results
The main activities of the project were:
Scoping and preparation;
Training and Preparation/Reconnaissance Survey;
Conducting sectoral assessment and analysis;
Drafting of the report.
The PDNA resulted in a government-owned report outlining opportunities for mainstreaming disaster risk reduction and climate change adaptation into national recovery and development strategies, as well as next steps in the reconstruction and recovery efforts.
Partnerships and coordination
As per the 2008 Joint Declaration of the UN, World Bank and the European Commission on post-crisis assessment and recovery planning, the World Bank has requested UN and the EU Delegation's participation in the assessment. UNDP, ADB, SPC, SPREP, FAO, UNOCHA, UNICEF and DFAT have indicated that they will participate in the assessment. The government has indicated that it will lead the assessment and welcomes joint support by the above parties. PDNA management and coordination teams between the government, EU, UN, WB and other key parties have been established.
Useful links
Link to the PDNA.
Country
Priority area
Integration of disaster prevention into post-disaster recovery
Disaster Type