Tonga: Technical Assistance for Recovery and Reconstruction Planning, Post Tropical Cyclone Ian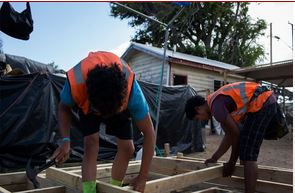 Building back climate-resilient homes in Tonga following Tropical Cyclone Ian. Source
Context and Objectives 
The primary objective of this activity was to promote resilient reconstruction through support to the development of a housing reconstruction policy framework and strategy.
Main Activities and results
The main activities of the project were:
Assist in developing a Housing Reconstruction Policy and Strategy by:

Refining the needs assessment;
Establishing the context of reconstruction
Outlining the institutional and financial strategy and principles of community participation;
Detailing the reconstruction approach, including eligibility criteria, grievance redressal, relocation and changes in land-use policy required for enhanced disaster resilience, and "Build back better" principles for housing reconstruction; and
Identifying appropriate risk management measures for environmental and social safeguards, disaster risk reduction, and M&E. The Reconstruction Policy would feed in the Tonga national resilient recovery program.

Support the Government's recovery and reconstruction planning through providing technical support to the Government for the mapping of post-disaster building damage and needs, by:

Utilizing remote sensing, geo-information and global positioning systems; and
Compiling available hazard and risk information to produce adequate mapping products.

Provide training and capacity building to the Ministry of Infrastructure Policy and Planning Division.
The project supported the Government of Tonga in the following areas:
Promoted and supervised safer reconstruction following cyclone Ian that struck Tonga in 2014,
Develop the Haapai island Housing Reconstruction Policy (HRP) and a strategy that supports the government's recovery and reconstruction planning.
Partnerships and Coordination
Technical assistance was conducted jointly with the Ministry of Infrastructure and Planning.
 
Country
Priority area
Integration of disaster prevention into post-disaster recovery