Tonga: Cyclone Ian Reconstruction and Climate Resilience Project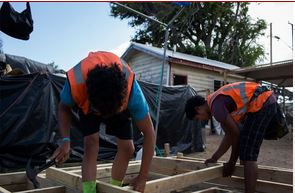 Building back climate-resilient homes in Tonga following Tropical Cyclone Ian. Source
Context and Objectives 
The project supports the National Tropical Cyclone Ian Response Plan. It aims to strengthen the climate resilience of housing and selected community facilities for the affected population of the Ha'apai islands, and strengthens the Government of Tonga's preparedness to recover from future natural disasters.
Main Activities
Component 1: Technical Assistance and Training for Enhanced Disaster and Climate Resilience: Resilience strengthening for safer homes and communities.
Building advice:  Provision of technical assistance to home owners and communities for disaster and climate resilient repairs and retrofitting of homes and community facilities as part of the supported self-recovery.  
Climate Resilience Training: for tradespeople, supervisors, local builders, community leaders and home owners for climate resilient buildings and infrastructure.
Improving application of the building code: Strengthening and updating of the Building Code and design and implementation of public awareness and practices campaigns for self-enforcement (focusing on low income groups). 
Improving the disaster recovery and reconstruction framework:  

Review and document lessons learnt from reconstruction and recovery of past major disasters;
Review and update of relevant legislation and institutional arrangements, such as the Emergency Management Act 2007 and the National Emergency Management Plan 2010; 
Develop an operations manual detailing implementation and planning arrangements for disaster recovery and reconstruction, including standard assessment templates and procedures; and, 
Conduct of a roadshow and broad community consultations on the draft Recovery and Reconstruction Policy.
Component 2: Project Support. This support for project implementation and management includes for example procurement, financial management, contract management, social and environmental safeguards oversight. 
Results 
The 2010 National Emergency Management Plan and the 2007 Emergency Management Act were reviewed and updated.
A National Housing Reconstruction Policy and a Housing Reconstruction Strategy were drafted and submitted to the cabinet of Tonga.
An operations manual detailling planning and implementation arrangements for diaster recovery and reconstruction was developed.
A database with technical design documents for Government-led housing reconstruction, as well as a post-disaster housing-damage-assessment data collection tool, were developed. In the proces, 50 government officials were trained, including 5 women.
A public awareness campaign on building compliance took place.
Coastal hazard risks were assessed and mapped to inform reconstruction planning and resilience building within the Ha'apai affected areas.
Work is ongoing on updating Tonga's building code.
Partnerships and Coordination
Every effort has been undertaken to coordinate with the Delegation for the Pacific and other EU-funded programmes such as the 10th EDF ACP-EU Building Resilience and Safety in the Pacific (BRSP) programme, the ongoing DCI-ENV GCCA Pacific Small Islands Pacific States projects and the starting 10th EDF EU-GIZ Adapting to Climate change and Sustainable Energy programme.
Coordination with government institutions continues, with constant interactions regarding data preparedness and emergency response procedures.
 
Country
Priority area
Integration of disaster prevention into post-disaster recovery