Timor-Leste: Building Climate and Disaster Resilience in Communities Along Dili-Ainaro and Linked Road Corridors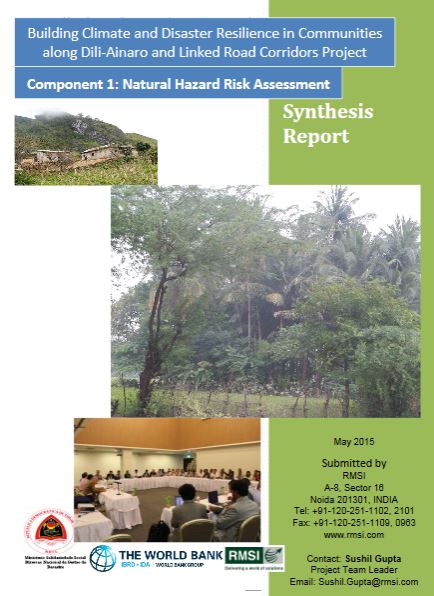 Context and Objectives 
The project objective was to help reduce the risks that Timor Leste faces from natural disasters and to minimize the losses that result to its infrastructure assets and livelihoods of poor rural farmers.
Main Activities and results
The activities under this project were:
Hazard Risk Assessments in Ainaro, Aileu, Ermera and Manufahi districts focusing on landslides and flooding hazards,
Strengthening capacity at sub-district level for planning and delivering of community-based disaster risk management at the sub-district level. This included:
Community-Based Disaster Risk Management and Adaptation Plans and Pilot Projects. This included:
The main results included:
The Government of Timor Leste and the World Bank team completed an assessment of natural hazards and associated risks in 49 municipalities (sucos) in four districts along a planned 100 kilometer stretch of the Dili-Ainaro road corridor. This corridor will grant to more than 130,000 people better access to markets, public services, and employment opportunities.
Exposure analysis estimated the value of exposed communities, property, and economic activity in all categories at over $570 million, with residential and transport accounting for more than 80 percent of the total value.
A capacity building program strengthened the skills of Government staff and relevant officials necessary for the understanding of multi-hazard risk assessment, including data collection, field surveys, and for the use of technical analysis tools for disaster risk management.
A Community-Based Disaster Risk Management (CBDRM) Guide was developed and field-tested, and selected technical manuals, for example, on landslide and flood mitigation measures, were produced for municipal-level implementation.
A $3 million grant agreement between the Government of Timor-Leste and the World Bank was signed in February 2015 to finance a follow-up project, which will use the risk assessments and the CBDRM guidelines developed under this project.
Partnerships and Coordination
The EU representative was involved in the official launch of activities, and was also regularly informed during regular project implementation support missions.
The project collaborated closely with UNDP's CBDRM project. The CBDRM manual revision workshop was jointly sponsored by UNDP and the project. There has been consensus to adopt the project CBDRM Manual as the single manual to be used by both the project and that of UNDP's. This is expected to lead to consistency in the implementation of the two projects at the suco level.
Useful Links
The synthesis report of the hazard risk assessment can be found here.
Country
Priority area
Mainstreaming of disaster risk reduction (DRR)