Suriname: Greater Paramaribo Flood Risk Management Project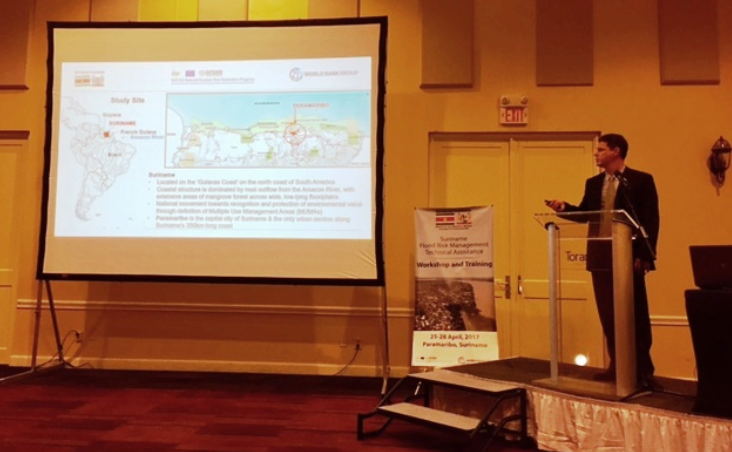 Presentation of the final results of the flood risk assessment, the coastal resilience assessment and the flood mitigation options and investment plans in Suriname. Source: World Bank
Context and Objectives 
This project's objective was to assess flood risk in the Greater Paramaribo area, in order to support the Government of Suriname to prioritize targeted flood risk reduction investments. The grant provided an initial baseline and analytical tools for flood risk management. This helped Suriname to develop a program of strategic interventions and policies to address recurrent flooding and the anticipated impacts resulting from climate change.
Activities and results
Component 1: Analysis of Flood Risk Management in Greater Paramaribo. This entailed the development of an initial information baseline to inform a flood risk model as a basis for investigating scenario to reduce flood risks. This was done by gathering and consolidating available information from previous studies on water management and flooding within the Greater Paramaribo area, and in particular – in relation to canal and drainage networks.
Component 2: Development of a Prioritized Flood Management Investment Plan. This component entailed the development of an investment plan for critical flood management infrastructure elements identified by the government of Suriname.
Component 1: An analysis were undertaken of the flood risk within Greater Paramaribo, including:
Analysis of type, source, and probability of flood hazard and vulnerability of exposed assets;
Review of existing risk mitigation infrastructure and natural defenses provided by coastal mangroves; and
Appraisal of Government's capacity and experience in designing, building, and maintaining physical and institutional flood risk management infrastructure with inter-agency coordination mechanisms in place.  
Component 2: 
A proposed investment plan for prioritized flood management investments has been made. 15 potential strategic structural and non-structural mitigation interventions were analyzed by employing a risk modelling approach, which considered climate change scenarios, and by conducting a cost-benefit analysis for each of the interventions. 
The results of the strategic flood risk assessment and the coastal resilience assessment were presented during the two workshops organized in the partnership with Ministry of Public Works, Transport and Communication in Paramaribo during April 24-28, 2017. The workshops were covered by TV and newspapers and were attended by approximately 70 representatives from key stakeholders, including government officials, University, NGOs, international and multilateral organisations and the private sector.
Capacity building:
A series of institutional capacity building initiatives and training were conducted. A total of 148 persons were trained on disaster risk management during training events organized throughout the implementation of the project.
During the presentations of the assessments in April 2017, there was also a a two and half-day Flood Modelling Training delivered for technical government officials responsible for flood risk management in the country.
A workshop was also organized on December 8, 2017 to handover of all data and models used in the FRA analysis. Approximately 20 technical government officials attended the workshop.   
Partnerships and coordination
The project team regularly held meetings with the Ministry of Public Works of Suriname and the National Coordination Center for Disaster Control. Other local partners such as the Anton de Kom University of Suriname, Conservation International (CI), National Institute for Environment and Development (NIMOS), Center for Agricultural Research (CELOS), and WWF were instrumental in providing and suggesting sources of useful data and analysis crucial to the assessments. 
The Project team and World Bank officials regularly conducted meetings with the officials based at the Delegation of the EU to Guyana, Suriname, Trinidad & Tobago and for the Dutch Overseas Countries and Territories in Georgetown, Guyana. Furthermore, the project team coordinated with other ongoing EU-funded projects in Suriname.
The project team conducted periodic meetings to ensure that the technical assistance remained in cohesion with the initiatives led by other development partners such as UNDP, Inter-American Development Bank (IADB); the international development community such as the Dutch Embassy, the French Development Bank (AFD), and private sector organizations.
Country
Priority area
Risk identification and assessment