Southwest Indian Ocean Islands: Catastrophe Risk Profiling & Financing Initiative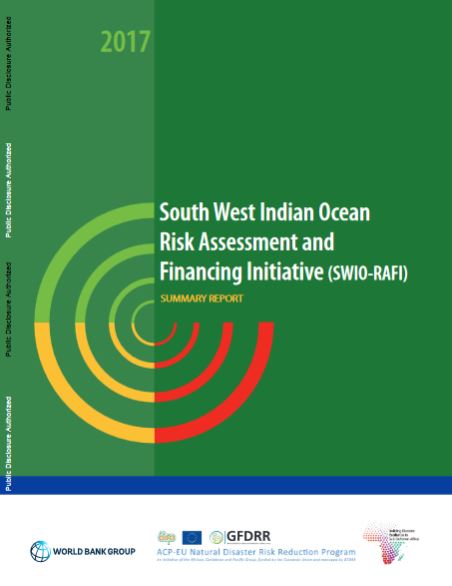 Context and Objectives 
The Southwest Indian Ocean Island States are more vulnerable than ever to disaster losses from catastrophes such as cyclones, floods, earthquakes and tsunamis. The effects of climate change, a growing population and increased economic exposure exacerbate these threats. The identification of individual or joint solutions to increase financial resilience of the island states against natural hazards was the main purpose of this technical assistance.
The Southwest Indian Ocean Risk Assessment and Financing Initiative (SWIO RAFI) sought to answer this question. SWIO RAFI aimed to provide a solid basis for the future implementation of disaster risk financing. The development objectives of the project were two-fold:
improving understanding of disaster risks to the Indian Ocean Islands (IOIs) so as to advance disaster risk management applications and by increasing.
increasing the financial resilience of the IOIs against natural disasters, and their capacity to meet post-disaster funding needs without compromising their fiscal balances and development objectives.
Main Activities and results
The projects main activities included: 
Data collection and management of disaster risk information
Catastrophe risk modeling and fiscal risk profiling
Quantitative and qualitative evaluation of options for financing disaster losses
Development of evidence-based national disaster risk financing strategies
Policy dialogue and monitoring and evaluation
The following results were achieved:
Ability to measure, maintain and apply disaster risk data for enhanced resilience to disasters was improved
Robust catastrophe risk profiling of Island States were established
Preliminary national disaster risk financing strategies were established based on quantitative and qualitative assessment of probable losses, financing gaps and costs and benefits of available financing options
Partnerships and Coordination
The implementation of the project was conducted with inputs from, and in close coordination with the World Bank Disaster Risk Financing and Insurance team. The project team ensured close coordination with other partners in the region, such as the United Nations International Strategy for Disaster Reduction (UNISDR) and the Agence Francaise de Developpement (AFD), which has a regional project with the IOC on national disaster risk management policy.
The World Bank's Africa DRM/GFDRR/DRFI team has coordinated closely with the EU Delegation to Mauritius, Comoros, and Seychelles on the development of this project. The EU supported the beginning of this project through its financing of the IOC-lead Islands project for the sustainable development of the IOIs, which supported the establishment of the Regional Platform for Disaster Risk Transfer Mechanisms.
Useful Links
A summary report on the SWIO RAFI can be found here.
The country risk profile for Seychelles can be found here.
The country risk profile for Comoros can be found here.
The country risk profile for Madagascar can be found here.
The country risk profile for Mauritius can be found here.
A Results in Resilience story on SWIO RAFI can be found here.
Country
Priority area
Mainstreaming of disaster risk reduction (DRR)