Southeast Africa: Support the Establishment of a Technical Centre for Disaster Risk Reduction and Climate Change Adaptation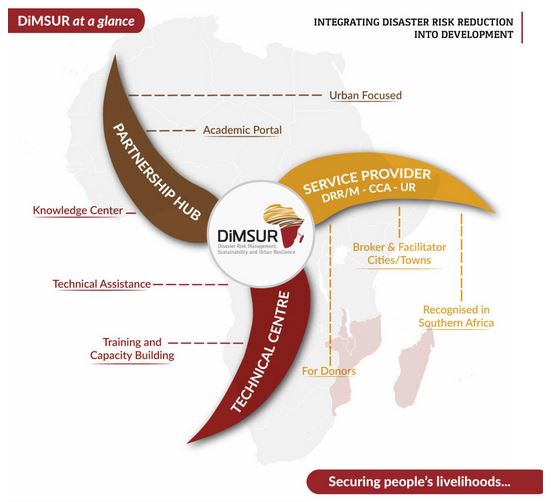 DiMSUR infographic. Source: http://dimsur.org/about-us/
Context and Objectives 
The aim of the project was to contribute to disaster risk reduction (DRR) and climate change adaptation (CCA) in southern Africa through establishing a technical centre for DRR and CCA which enhances inter-country cooperation, knowledge sharing, technical assistance and capacity development.
Main Activities and results
Under the leadership of the concerned countries and sub-regional disaster management institutions, the activity contributed to the planned initial phase for establishing a technical centre for DRR and CCA, through the following main activities:
Operationalising the centre by recruiting appropriate technical expertise and defining its initial programme of activities, making sure that synergies are created with on-going initiatives and other institutions.
Facilitating/delivering training and capacity development activities to countries' civil servants in areas of growing interest.
Designing at least two DRR/CCA technical programmes in the sub-region and identifying secure funding for their implementation; which would allow ensuring progressively the self-sustainability of the centre.
The following results were achieved:
The establishment of the Technical Centre for Disaster Risk Management, Sustainability and Urban Resilience in Southern Africa (DiMSUR) was facilitated.

DIMSUR's Executive Board and Executive Director are in place.
Concept notes of two innovative DRR/CCA pilot projects were completed.
DIMSUR is proactively seeking and establishing partnerships and synergies with relevant academic institutions, international/cooperating partners and the

Southern African Development Community's (SADC)

DRR Unit. DiMSUR is actively exploring and seeking funding opportunities to ensure the long-term sustainability of the Center.
Preparation of the DiMSUR 10-Year Strategic Plan has been completed, seeking to maximize the Center's effectiveness and positive impacts in Sub-Saharan Africa.
Partnership and Coordination
The project was aligned with the DRR/CCA national programmes/strategies of the concerned countries, namely: the

Interim Poverty Reduction Strategy Paper

of Comoros; the 2011-2014 P

overty Reduction Action Plan

of Mozambique (target: "improving strategies adaptation to climate change"); the Priority 8 of the National Development Plan of Madagascar, approved in 2008; and the Theme 2 (disaster risk management and climate change adaptation) of the Malawi Growth and Development Plan 2006-2011.
The process of the establishment of DiMSUR was facilitated by the United Nations Human Settlements Program (UN-Habitat), in cooperation with the United Nations International Strategy for Disaster Reduction (UNISDR), with the support of the European Commission Directorate-General Humanitarian Aid and Civil Protection (ECHO) and the ACP-EU Natural DRR Programme, managed by the Global Facility for Disaster Reduction and Recovery (GFDRR) at the World Bank.
Useful Links
The DiMSUR Website is accessible at: http://www.dimsur.org
Country
Priority area
Risk identification and assessment