Sierra Leone: Supporting Community-Based Disaster Risk Reduction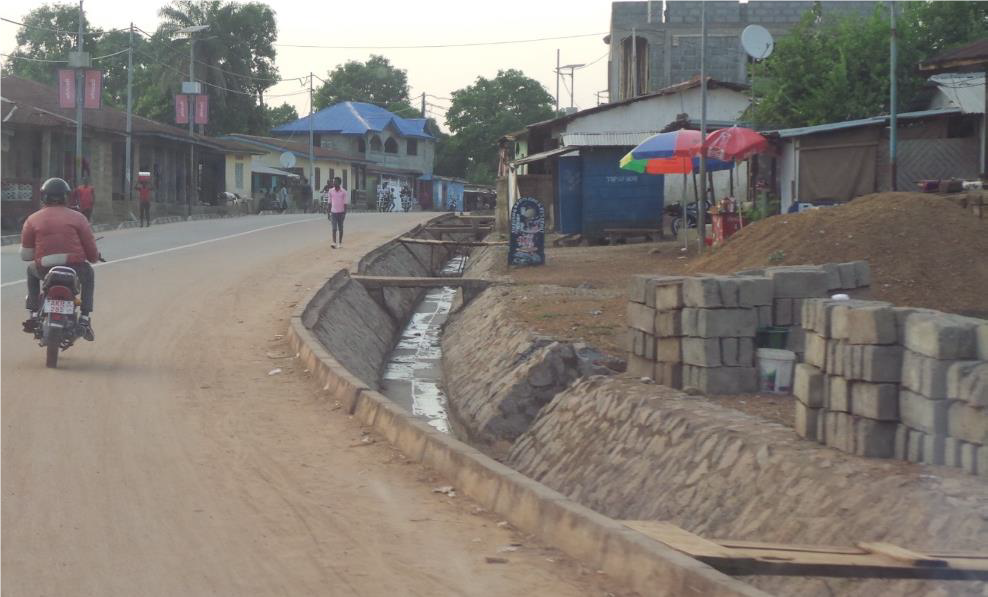 Example of a formal drainage channel in Makeni City, Sierra Leone. Source: World Bank
Context and Objectives 
The primary objective of the project was to contribute to integrating Disaster Risk Reduction (DRR) and Climate Change Adaptation (CCA) in development strategies in Sierra Leone. The project aimed to do so by building the capacity of targeted communities to implement community-based DRM, and by providing technical assistance to district and national institutions to integrate DRR and CCA in development planning.
Main Activities
The project activities werechannelled through three main components:
Strengthening national level coordination capacity for disaster risk reduction, preparedness and emergency response. This included a review to assess capacity and identify gaps and priorities for capacity development, support of the implementation of the memorandum of understanding between the Office of National Security's Disaster Management Department, the Ministry of Energy and Water and the Sierra Leone Red Cross to promote coordination, as well as learning activities including training, exchanges, and tool development for increased capacity.
Community based disaster risk management in and around dam sites and flood prone areas. This included educating local communities living downstream of dams on river/flood safety and what to do in case of an emergency.
Urban risk assessment in Freetown. This activity supported a participatory urban risk assessment in Freetown, where a large proportion of urban poor are highly vulnerable to flood risk and landslides. The assessment also aimed to promote women and youth as community DRR champions.
Results
The project was temporarily suspended because of the outbreak of Ebola in 2014-15, but is now being implemented. Before the Ebola outbreak, a capacity building workshop on Post Disaster Needs Assessments was organized in the fall of 2013, and a two day "experience sharing meeting" was organized in July 2014 for members of Sierra Leone's national DRR Platform and officials from the Ghanaian National Disaster Management Organization.
Once the project was able to be implemented, activities included conducting participatory urban risk assessments for three cities, which assess risks, describe hazards, identify needs in terms of DRR as well as priority investments. An inception report was prepared, and qualitative and quantitative risk assessments were developed. A report was also finalized describing DRR measures related to urban resilience, and on a cost-benefit analysis for DRR measures.
Partnerships and Coordination
The project team was in close coordination with the Office of the National Security, which is the main counterpart at central level; as well as with all the targeted cities through the Sierra Leone Resilient Cities World Bank funded project.
Country
Priority area
Mainstreaming of disaster risk reduction (DRR)