Sierra Leone: Post-Mudslides and Floods Needs Assessment and Recovery Framework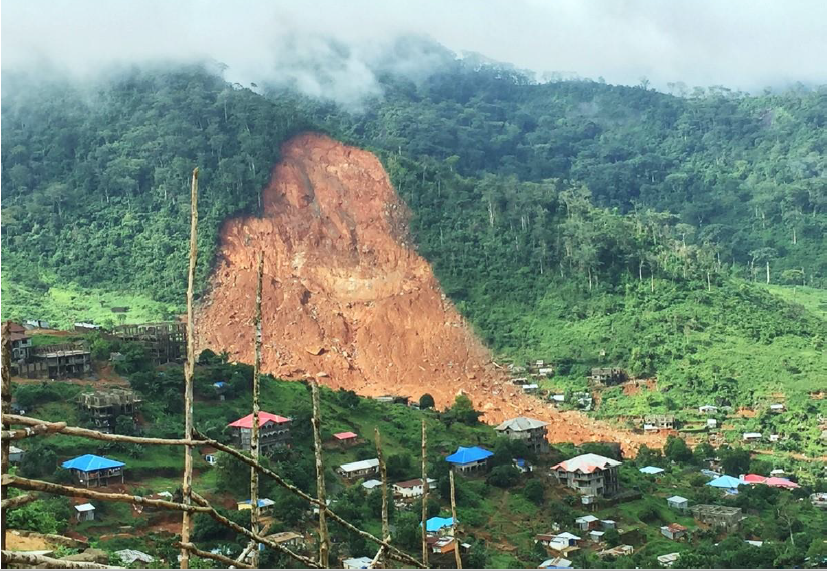 Context and Objectives 
On 14 August, 2017, a tropical convergence in the Regent Area on the outskirts of Sierra Leone's capital of Freetown resulted in a section of Sugar Loaf mountain coming down. A combination of heavy downpours and unregulated construction on the sides of the mountain undermined its structure leading to mudslides and floods, killing 493 people with an additional 600 people missing and leaving over 3,000 people homeless. 
In the days following the event, heavy rain continued to fall over Freetown, increasing the risk of additional mudslides and landslides and limiting the access to the affected areas, with the number of displaced people consequently increasing.
The government of Sierra Leone requested support to undertake a Post-Mudslides and Floods Rapid Needs Assessment and to develop a Floods Recovery Framework, with funding from the ACP-EU NDRR Program.
Main Activities and results
The Rapid Needs Assessment began on 24 August 2017. The assessment had the following objectives:
Analyze the damage, economic loss, effects and impact of the disaster and identify recovery needs across identified sectors;
Highlight the macro-economic and human impacts of the disaster;
Help determine the magnitude of the impact and the needs to mobilize resources and inform the recovery strategy;
Ensure that strategies for recovery integrate concepts of DRR and "build back better"; and
Recommend institutional mechanisms and policy options to be undertaken in support of the recovery and Reconstruction process that promote long-term disaster resilience.
The assessment informed a Recovery Framework, that will assist the government of Sierra Leone to:
Define and align national and sector-level recovery visions, guiding principles, and priorities with long-term development objectives; and,
Establish a sequenced and prioritized cross-sectoral framework of recovery interventions.
The Recovery Framework also informed investment interventions supported by external partners.
The assessment report was presented on 8 September 2017 to the Government of Sierra Leone, including President Dr. Ernest Bai Koroma, the Hon. Vice President, cabinet ministers and senior government officials as well as UN agencies. The report was published in October 2017.
The assessment outlined the total economic value of the effects of the landslide and floods to be estimated at US $31.65 million, with the three sectors most affected being housing (US $15.4 million), social protection (US $4.85 million) and health (US $4.7 million).
Partnerships and coordination
The assessment was supported by the World Bank, the United Nations (UN) and other development partners and involving key government stakeholders, including, Ministry of Land, Country Planning and Environment, Ministry of Agriculture, Forestry and Food Security, the Office of National Security, the Environmental Protection Agency and the National Protected Area Authority.
Useful links
The report is available here.