Seychelles: Rapid Damage Assessment, Tropical Cyclone Fantala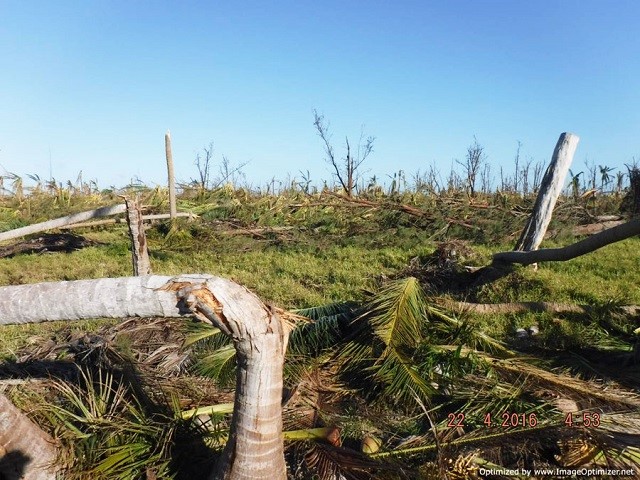 Context and objectives 
Tropical Cyclone Fantala, one of the most severe storms to ever hit the South-West Indian Ocean, twice passed near the Farquhar Group of the Seychelles between April 17 and 19, 2016 causing widespread damage to nearly all private and public buildings, including the destruction of important desalination facilities (only four cyclone-proof facilities on the island survived), while significantly impacting communities and livelihoods in the archipelago.
The objectives of this project were to:
Identify the effects of Fantala on Farquhar island and possibly on other nearby islands;
Identify needs for the rehabilitation and propose restoration options and assess their costs; and
Provide training to expose officials from national and state governments to the PDNA methodology and the Disaster Recovery Framework.
Main activities and results
The post disaster support of the ACP-EU NDRR program funded four key activities and areas:
Mobilization of a small team to support authorities in assessing the impacts of Fantala on Farquhar Island;
Support the formulation of a recovery plan/framework, including its costing;
Support the authorities in developing a financing strategy for the rehabilitation of Farquhar Island;
Training to expose officials from national and state governments to the PDNA methodology and the Disaster Recovery Framework.
The following results were achieved:
After completing the rapid assessment the project team presented the findings to the Finance Minister of the Seychelles on May 16, 2016, highlighting the estimated damage and loss at US$10 million and needs at US$8.5 million, as well as going through options for possible World Bank financial assistance.
A training on Post-disaster Needs Assessment (PDNA) Methodology for officials from the Government of the Seychelles and other relevant stakeholders was undertaken as part of efforts to build national in-house PDNA implementation capacity.
The final report was released in the third quarter of 2016.
Partnerships and coordination
The World Bank conducted the rapid damage and loss assessment in coordination with the United Nations System, the EU Delegation in Mauritius, the Indian Ocean Commission and engaged with other agencies as needed. The World Bank team has been in contact and coordinating the response with the EU delegation in Mauritius, and the United Nations Resident Coordinator. 
Useful links
The PDNA can be found here.
Country
Priority area
Integration of disaster prevention into post-disaster recovery