Saint Lucia: Measuring the Impact of Disaster Events on Poverty and Social Vulnerability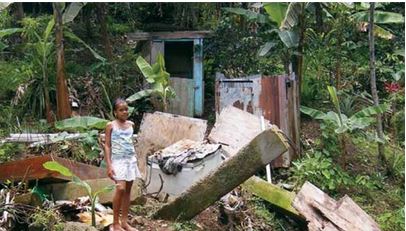 A young girl stands outside a home destroyed by a rainfall-triggered landslide in Castries, Saint Lucia, in 2013. Source.
Context and objectives 
Saint Lucia is exposed to high levels of risk from meteorological and geologic hazards which have significant negative impacts on its economic and fiscal stability. Since 2010, two major natural disasters have impacted Saint Lucia - Hurricane Tomas in 2010, resulting in losses of about 40% of GDP, and severe flooding in 2013, resulting in losses of about 8% of GDP. 
The Measuring the Impact of Disaster Events on Poverty and Social Vulnerability project was approved in response to the government's request for support in better targeting the poor and socially vulnerable in comprehensive Disaster Risk Management (DRM) and Social Protection programs.
This project aimed to analyze the impact of natural disasters on social vulnerability in Saint Lucia, in order to inform DRM and other relevant strategies and policies to, in particular, better target the poor and socially vulnerable in a comprehensive DRM Program.
Main activities and results
The project undertook the following activities:
Took stock of quality assessments, and prepare data for an analysis of the impact of natural disasters on social vulnerability. This entailed collecting existing data on household welfare and existing data on hazard events and disaster impact.
Developed the methodology for the assessment.
Conducted a socio-economic survey to inform the welfare analysis, and supported the national statistical office (NSO) to design a survey module on the multi-dimensional aspects of poverty and other indicators of social vulnerability.
Analyzed data to calculate/quantify the relationship between disaster impact and welfare. This included identifying areas that have in the past been affected by natural disasters, conducting before-and-after poverty and social vulnerability analysis, and comparing conclusions reached with the situation in unaffected or only indirectly affected communities.
Integrated the analysis into a comprehensive risk management framework/strategy.
Published and disseminated results of the analysis, and organised workshops to promote knowledge exchange between SIDS.
The following results were achieved:
A "disaster shocks module' enabling the integration of disaster assessments in policy analysis was developed. The module was piloted in Saint Lucia and will be incorporated in Living Standard Measurement Study surveys throughout Eastern Caribbean.
A Social Vulnerability Index has been developed that will contribute to the quantification of the impact of disasters on social well being in Saint Lucia. The preliminary findings from the analysis were presented to the Central Statistics Office and to 60 technical experts during the Urban Resilience Conference in November 2017. In consultation with the Central Statistics Office, a list of additional data sources was developed, which is currently being validated.
The project team is currently developing, in consultation with the Central Statistical Office, a methodological framework for assessing the impact of disasters on wellbeing.
An analysis is currently being developed to calculate and quantify the relationship between disasters and their impact on welfare. Activities have also resulted in the increased sensitization of farmers on climate adaptation and climate financing through workshops, assessments, and consultations. 
Partnerships and Coordination
This project was implemented by the World Bank Caribbean Disaster Risk Management team within the Social, Urban, Rural and Resilience Global Practice, with support from the World Bank Poverty Global Practice, in close collaboration with relevant government departments and other domestic stakeholders. The team also worked closely with the Statistical Office in Saint Lucia. In addition, coordination with EU-funded activities was undertaken through coordination with the EU Delegation in Barbados.
 
Country
Priority area
Risk identification and assessment