Rwanda: Development of Comprehensive Disaster Risk Profiles for Enhancing Disaster Management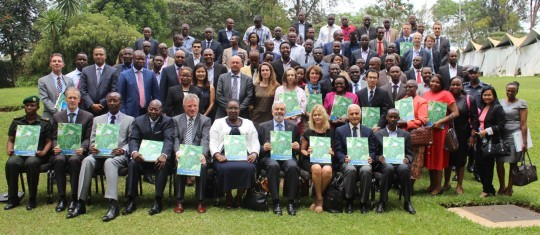 Context and Objectives 
Rwanda is a country prone to a wide range of natural hazards that every year put a strain on the most vulnerable communities and takes a considerable toll both in terms of economic losses and human lives. The project aimed at supporting national authorities of Rwanda to identify the disaster-prone areas in order to better design targeted and contextualized risk reduction and adaptation programs and to adapt it to the local context and risks.
Main Activities and results
The project was a technical assistance provided to the Ministry in charge of Disaster Management in Rwanda to conduct a Comprehensive Risk Analysis in the country and develop national capacity for DRR, aiming at producing evidence-based comprehensive national and district disaster risk profiles. The project consisted of three phases:
Phase 1: Technical support provided to the Research and Public Awareness unit of the Ministry of Disaster Management and Refugee Affairs (MIDIMAR) to guide the government in conducting disaster risk assessments at the district level, specifically to develop MIDIMAR capacity, to develop methodology and tools, and to develop the necessary coordination mechanisms at the national level. Augmented by technical support provided by the UNDP and WFP, and in close collaboration with the Disaster Management Task Force (DMTF).
Phase 2: Supported MIDIMAR in conducting various training sessions to strengthen the capacity of the DDMC in disaster risk assessment and in integrating the outputs into their existing Disaster Management mechanisms. Disaster risk assessments at district level were conducted through District Disaster Management Committees (DDMC), using the developed methodology and tools.
Phase 3: Development of a comprehensive Country Situation and Risk Profile of Rwanda for the formulation of evidence-based recommendations for DRR.
On September 10, 2015, the Government of Rwanda (GoR) launched its first National Risk Atlas, thanks to a financial support of the ACP-EU NDRR Program. In close collaboration with UNDP, EU and the World Bank, the National Risk Atlas was developed through a comprehensive risk assessment process led by the GoR.
The National Risk Atlas of Rwanda focuses on five main hazards: drought, landslide, flood, earthquake and windstorms. It highlights the different levels of vulnerability and exposure in relation to these hazards throughout Rwanda, while at the same time, outlining key mitigation recommendations designed to reduce risk.  
Partnerships and Coordination
The project involved key partners working closely together from the Government of Rwanbda's Ministry of Disaster Management and Refugee Affairs, the UNDP in Rwanda, the EU and the World Bank. The project has promoted the government's DRR dialogue with key development partners from Germany, Sweden, Switzerland, Japan, USA, and the European Union at large, as well as consolidated DRR and CCA awareness among Government of Rwanda's senior authorities from the national to the local levels and fostered enhanced collaboration with relevant NGOs and CSOs concerned with building resilience to natural disasters.
Useful Links
The Rwanda Risk Profile can be found here.
Video documentary part 1 and Part 2
 
Country
Priority area
Early warning systems and communication on DRR