Jamaica: Strengthening Disaster Risk Management and Climate Resilience in the Development Planning Process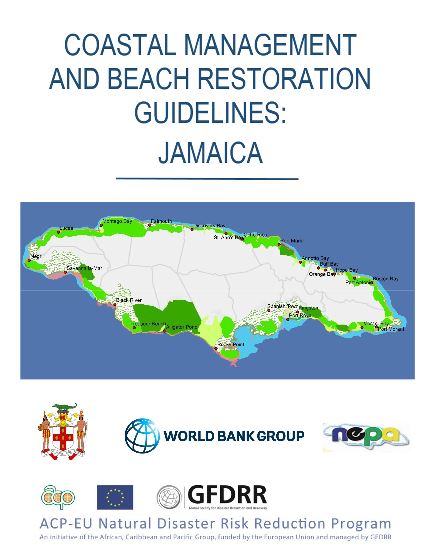 Context and Objectives
The primary objective of the project was to support the strengthening of Jamaica's disaster risk management (DRM) framework. Sub-objectives included mainstreaming of DRM in policy development, improving the application of disaster risk analysis to selected sectors, and strengthening institutional capacity for disaster vulnerability reduction.
Main Activities and results
Developing planning instruments for DRM, to assist the government in further incorporating DRM criteria in public investments. 
Conducting a transport sector infrastructure disaster risk analysis. 
Developing Guidelines for Coastal Management & Beach Restoration based on an eco-system approach. 
Developing a Strategy for Preventative Resettlement. 
Analyzing the needs regarding the accessibility and locations of search and rescue equipment for first-responder services, and training officials and practitioners on effective emergency management.
The main results of the project are:
The Guidelines for Coastal Protection and Beach Restoration were finalized, and presented during the World Oceans Day event in Jamaica in June 2017. The document  incorporates the use of nature-based infrastructure, hard infrastructure, non-structural solutions, and a combination of them. 
The final draft version of the National Strategy for Resettlement regarding natural disasters was completed. The last stages of the finalization of the strategy were led by a lead unit within the Ministry of Economic Growth and Job Creation, which coordinates the resettlement agenda within the country. The Government of Jamaica has ownership of the draft strategy and decides on the way forward.
An analysis of the impact of flood/landslides on the road network and transport infrastructure was conducted, which fed into the report Natural Hazards and Disaster Risk Assessment for Improved Transport Infrastructure Management – The Case for Application for Jamaica.
An analysis on the gaps in the capacity of emergency management first responders was finalized and the final draft was handed over to the Office of Disaster Preparedness and Emergency Response. The analysis can feed into a future training plan for emergency management.
Partners and Coordination
The project's key counterparts were the Ministry of Economic Growth and Job Creation, the Ministry of Local Government and Community Development, the Ministry of Land, Water, Environment and Climate Change and the Ministry of Transport, Works and Housing. Other public institutions and agencies, such as the Planning Institute of Jamaica and the Jamaica Social Investment Fund were also key counterparts.
The outputs of the project were shared with development partners in Jamaica, including the EU Delegation.

Useful Links
The Coastal Management and Beach Restoration Guidelines can be found here.
Country
Priority area
Mainstreaming of disaster risk reduction (DRR)