The Economic Community of Central African States (ECCAS) organized, in collaboration with the Government of Burundi, from 28 January to 1 February 2019 in Bujumbura the 7th Disaster Risk Reduction (DRR) Platform for Central Africa. The Platform took place back-to-back with the 8th Central Africa Annual Disaster Preparedness and Response Consultation. The theme of the 7th DRR Platform was: "Defining a system for evaluating the implementation of the Sendai Framework for Africa in Central Africa."
Participants of the Platform were, among others, experts from ECCAS Member States, representatives from the Parliamentary Network for Disaster Resilience in Central Africa (REPARC), national societies of the International Committee of the Red Cross (ICRC), members of the Economic Community of West African States (ECOWAS) Platform for Disaster Risk Management (DRM), and managers of NGOs working on DRM in Central Africa.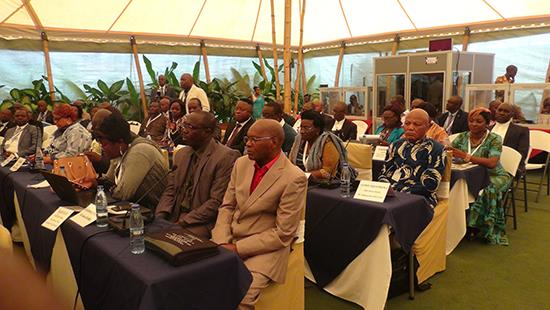 Participants during the 7th Central Africa Platform. Source: ECCAS
The Minister of Public Security and DRM of Burundi, Mr. Alain Guillaume Bunyoni, presided the opening ceremony. During the opening ceremony, speeches were delivered by the Director-General of the Burundi Civil Protection; the Ambassador of the European Union (EU) to Burundi; the World Bank Country Manager for Burundi; and by the Deputy Secretary-General of ECCAS.
The intervenors reviewed the disaster risk situation in the Central Africa region. Disasters faced are of several kinds, of which the most frequent are:
70%: natural hazards, mainly floods, droughts, thunderstorms and landslides;

20%: health hazards, including waterborne diseases and epidemics;

8%: geological hazards, such as volcanic eruptions;

2%: other hazards.
Participants also highlighted the progress made by ECCAS Member States since the 6th DRR Platform, such as:
The recognition of the Central Africa Centre for Application and Climatological Forecasting (CAPC-AC) as a specialized body of ECCAS;

The creation of REPARC;

The establishment of DRM structures in Burundi, at the national-, provincial-, and community levels.
The participants face the future with optimism and determination. They exchanged their experiences on best practices and considered appropriate measures to continue managing disaster risks.
The event took place in the frame of the African Caribbean Pacific (ACP)-EU Program "Building Disaster Resilience to natural Hazards in Sub-Saharan African Regions, Countries and Communities," an initiative of the ACP Group of States, financed by the EU, and managed by the World Bank's Global Facility for Disaster Reduction and Recovery (GFDRR) of the World Bank.
Sources:
ECCAS here.
National Broadcasting Company of Burundi here.