Saint Vincent and the Grenadines: Floods and Landslides Assessment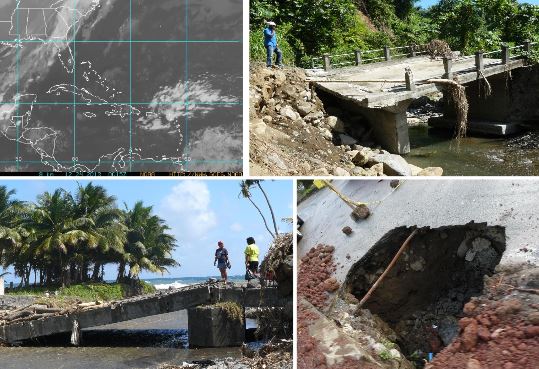 Context and Objectives 
The main objective of this project was to conduct a rapid assessment of damages from the December 2013 floods and landslides, and to assist the government of Saint Vincent and the Grenadines to plan the country's recovery.
Main Activities and Results
The main grant activities and outputs included the following:
Quantification of Damages to public physical assets. The World Bank team supported technical ministries such as the Central Water and Sewage Authority (CWSA), the Ministry of Transport and Works (MoTW) and other line ministries in assessing and quantifying damages of critical infrastructure. The rapid damage and loss assessment findings were used to leverage bi-lateral funding to support emergency response, including US$19 million from the World Bank's International Development Association Crisis Response Window, which was approved by the World Bank Board in May 2014 to support the country's reconstruction efforts.
Preliminary Macroeconomic Impact of the Disaster. To the extent possible and within the constraint of time, the World Bank team calculated the loss to the country's economic flows as result of the December 2013 disaster, based on available information and data.
Visualization of the Disaster. The team worked with the Meteorological Office to produce maps and short video of the disaster event.
Prioritization of Critical Infrastructure Reconstruction Investments. The World Bankteam worked with the national authorities, primarily the MoTW to identify and prioritize emergency response activities and reconstruction investments based on criticality and economies of scale. The prioritized investments were subsequently included in the WB-financed reconstruction project.
Government Endorsement. In early January, the findings of the rapid damage and loss assessment were presented by the World Bank team to Cabinet which fully endorsed it.
Partnerships and Coordination
During the preparation of the Rapid Damage and Loss Assessment, the World Bank team consulted the EU Delegation to the region (Barbados).
Furthermore, shortly after the completion of the damage assessment, the World Bank team met with, and made a presentation, to share the assessment findings with donors and regional development partners in Barbados. 
Additionally, linkages with all relevant regional actors (including the United Nations) were created to ensure that knowledge and processes are shared and some capacity is built throughout the process. More specifically, the UNDP-led post-disaster needs assessment conducted subsequently in St. Vincent and the Grenadines was informed by the findings of the rapid damage and loss assessment.
Useful Links
Subsequent to Government endorsement, the team presented the rapid damage and loss assessment to a large group of donors and development partners, including the EU, DfiD, the CDB, UNDP among others, in Barbados.  For wider outreach, the rapid damage and loss assessment report has been disseminated online.
The St.Vincent and the Grenadines rapid damage and loss assessment process, findings and lessons learnt were also discussed and shared among national and regional technical experts during the Caribbean Open Disaster Risk Information Webinar: Damage and Loss Assessments (St. Lucia and St. Vincent & the Grenadines), organized by the World Bank: https://www.youtube.com/watch?v=bsh5_gduilw
Country
Priority area
Mainstreaming of disaster risk reduction (DRR)