Consultative Group
The
Consultative Group (CG)

is GFDRR's primary decision-making and advisory body.

Consisting of Members and Observers, the CG sets GFDRR's long-term strategic objectives and oversees expected results. The Consultative Group has a Chair, who is a representative of the World Bank Group, and a Co-chair, who is a Member of the CG.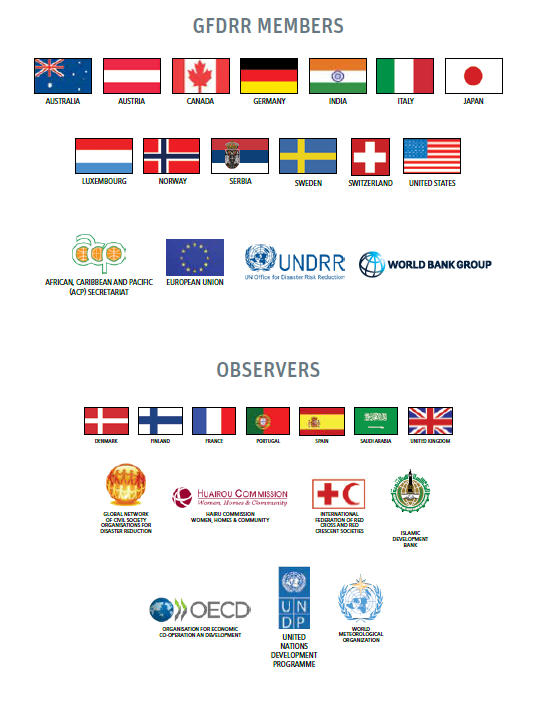 ​
Funding Sources & Partnerships
Contributions from most Members and other donors are pooled in GFDRR's Multi-Donor Trust Fund (MDTF).
The MDTF is used to finance projects around the world and may hold funds from any donor.
GFDRR's more than 400 partnerships are at the core of its work.
From community-level actors to civil society, and from academia to international organizations, these partners are key players providing financing, offering on-the-ground assistance, and sharing knowledge.
GFDRR also has several partnerships that have generated ongoing operational relationships, single-donor funding sources, or both:
European Union
The European Union is a key partner of GFDRR and – together with the Brussels-based Africa Caribbean and Pacific (ACP) Secretariat – its largest single donor, the two organizations having contributed USD 133 million to a range of programs since 2008.
Alongside other core partners, GFDRR and the EU work together to support the climate and disaster risk management agenda at major international events.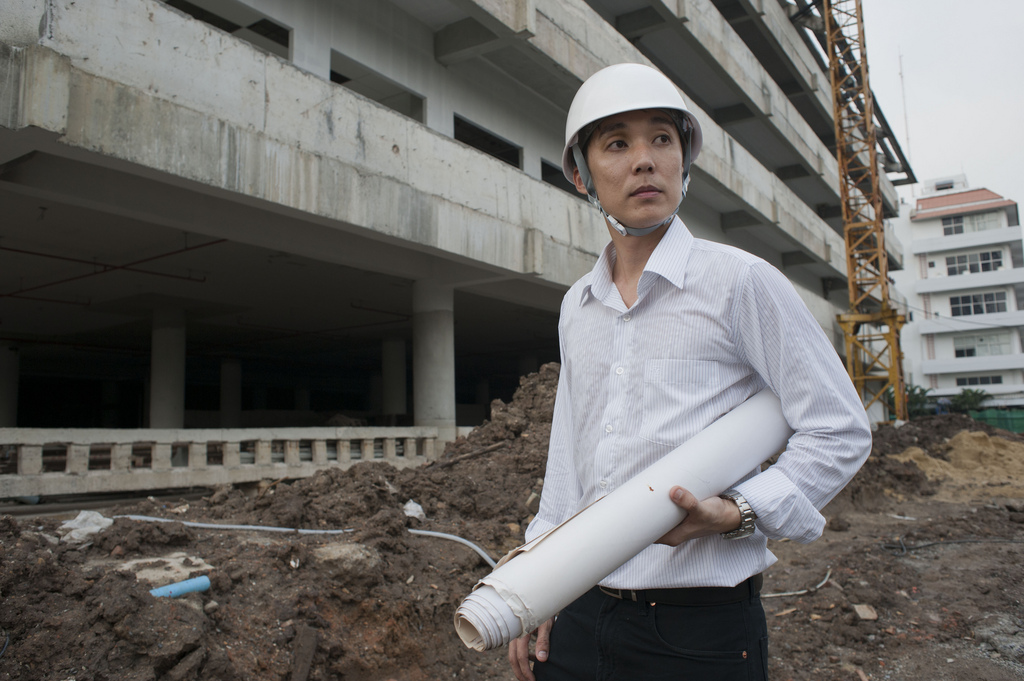 The EU and GFDRR also collaborate closely with the UN on
post-disaster needs assessments (PDNAs)

.

In 2008, the three partners signed the tripartite Joint Declaration on Post-Crisis Assessments and Recovery Planning to help harmonize and better coordinate post-crisis response frameworks.

The three institutions jointly issued a PDNA Guide and a Recovery Framework at the 2015 Sendai conference, and have collaborated on more than 40 post-disaster assessments.
GFDRR is currently managing the following EU-funded programs:
ACP-EU Natural Disaster Risk Reduction Program. Launched in 2011 as an initiative of the ACP Group of States, the program:

offers

technical assistance, advisory and analytical work, and capacity building

to support disaster risk management and climate change adaptation in ACP countries.
supports ACP countries in the aftermath of a disaster through

post-disaster needs assessments, rapid-response technical assistance, capacity building

, and the development of sustainable

recovery frameworks

.

ACP-EU Building Disaster Resilience in Sub-Saharan Africa Program

. Launched in 2014, this program is implemented by a range of partners: GFDRR, the African Union Commission, the UN Office for Disaster Risk Reduction, the African Development Bank, and the World Bank. The program works in five Results Areas, of which GFDRR is implementing two:

The African Regional Economic Communities (RECs) Program: Helping African

Regional Economic Communities improve their planning, policy advisory capacity, and disaster risk reduction coordination

; and
The Africa Disaster Risk Financing Initiative:

Supporting the development of financing strategies

at all levels of government so that African countries can make informed decisions, improve their capacity to respond financially in the wake of disasters, and mitigate fiscal and financial impact of disasters.
Since 2014, GFDRR's cooperation with the EU has become broader than Africa, Caribbean and Pacific, and now also includes three additional programs:
Serbia National Disaster Risk Management Program

. Launched in 2015, following the 2014 floods in the Balkans, this program established the first national plan to protect Serbia's development by reducing existing disaster risk, avoiding new risk, and responding more efficiently to disasters.

Disaster Risk Financing Analytics Project

. Launched in 2015, this project aims to improve governments' understanding of disaster risk finance and their capacity to make informed decisions about financing options.

European Union-South Asia Capacity Building for Disaster Risk Management Program

. Launched in 2015, this program supports hydromet service delivery. It focuses on enhancing capacity among both regional bodies and the national organizations that manage disasters in the member states of the South Asia Association for Regional Cooperation.
Japan
The Japan-World Bank Program for Mainstreaming Disaster Risk Management in Developing Countries is a program established by the partnership of Government of Japan and the World Bank to support client countries in enhancing their resilience against natural disasters. The Program aims to achieve this objective by funding technical assistant (TA) grants and by connecting Japanese and global expertise and best practices in disaster risk management (DRM) with developing countries and World Bank team. Since its inception, the Program has funded over 100 TAs in 56 countries worldwide.
Under the partnership between the Government of Japan and the World Bank, the Program is playing a key role in supporting the global development agenda and helping developing countries achieve the targets set out in the 2030 Agenda for Sustainable Development, the Paris Agreement, and the Sendai Framework for Disaster Risk Reduction.
In April 2018, building on the Program's achievements of four years since its establishment, the Government of Japan and the World Bank agreed to renew the Program with an additional US$100 million contribution from Japan Ministry of Finance (MoF), doubling the total Program value to US$200 million. The renewed Program will be implemented throughout 2024 and will have a thematic focus on: i) Resilient Infrastructure, ii) Risk Identification, Risk Reduction, and Preparedness, and; iii) Disaster Risk Financing and Insurance (DRFI). The primary development objective of the next five years is to mainstream disaster risk management into national development planning and investment programs, including through World Bank country strategies and operations.
Three Priority Areas
Resilient Infrastructure
Prioritizes activities that aim to integrate DRM principles and processes across the lifetime of infrastructure investments through design, construction, operations and maintenance, and contingency planning.
Risk Identification, Risk Reduction, and Preparedness
Supports activities to strengthen comprehensive approaches to enhance risk identification, risk reduction, and national DRM agencies.
Disaster Risk Finance and Insurance (DRFI)
Prioritizes activities that aim to enhance the financial resilience of developing countries against natural disasters by strengthening their capacities to better understand, mitigate, plan for, and meet post-disaster financing needs.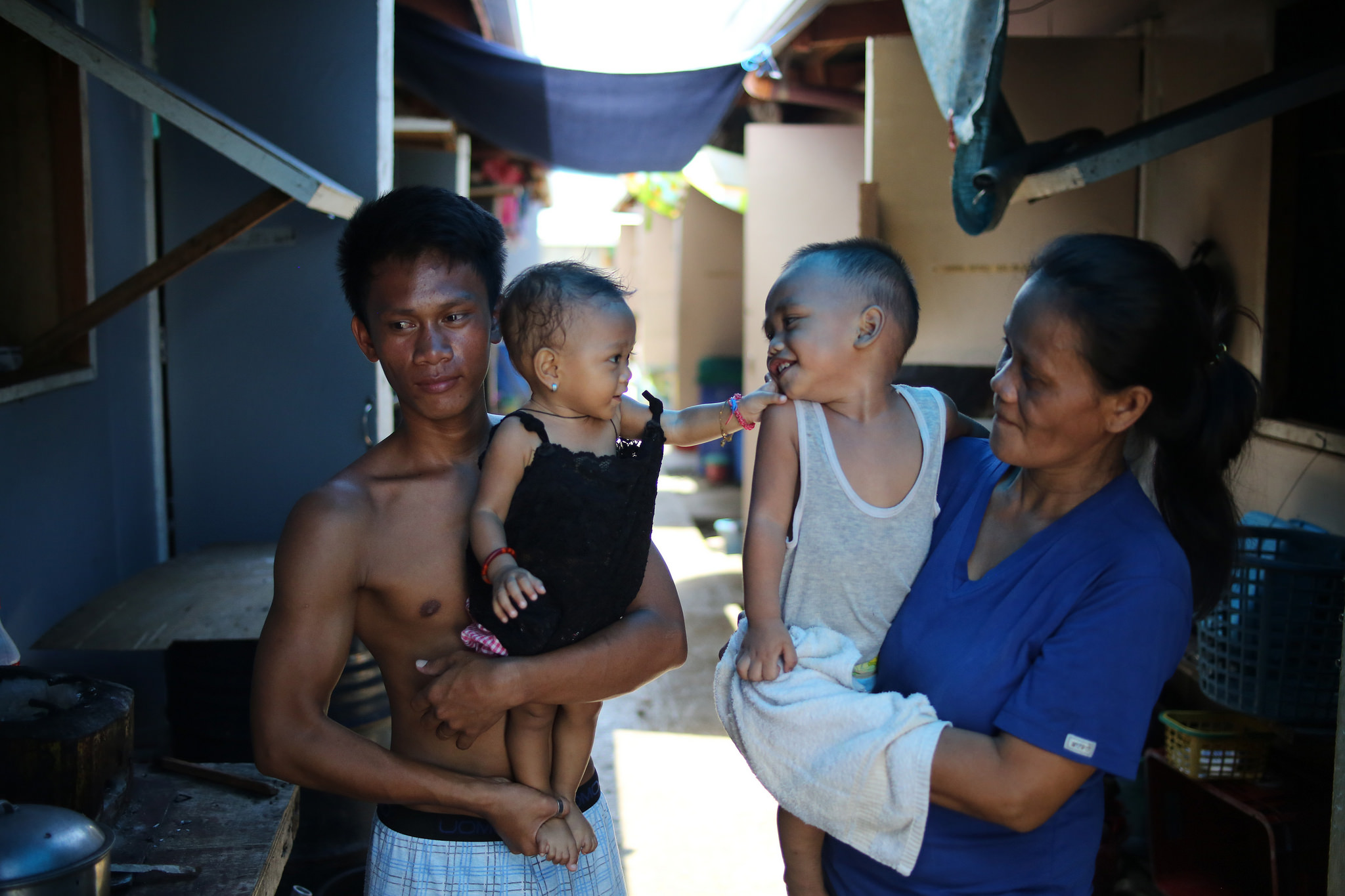 The Program is progressively contributing to increased country capacity in disaster risk-informed policy design and analysis; the adoption of national policy frameworks for mainstreaming disaster and climate resilience across infrastructure and social sectors; and strengthening building codes and land use planning systems. Additionally, activities are helping countries leverage World Bank investment financing for resilient infrastructure investments.
United Nations
Close cooperation with UN agencies is a cornerstone of GFDRR's agenda.
Partnerships with the United Nations include:
Global Preparedness Partnership (GPP)

. This partnership with the

V20 Group

of climate-vulnerable nations involves the Food and Agriculture Organization (FAO), the Office for the Coordination of Humanitarian Affairs (OCHA), the United Nations Development Programme (UNDP), and the World Food Programme (WFP). Its goal is to build the capacity of the most risk-prone countries to respond to, and recover from, disasters and other hazards.

Tripartite Agreement

. The World Bank, along with the UN and EU, have jointly declared how they will respond to crisis situations, including conflict and disasters. For disasters, GFDRR coordinates with the UN and EU to support post-disaster needs assessments and disaster recovery frameworks.

Climate Risk and Early Warning Systems (CREWS) Initiative

. Launched in 2015 at the COP21 in Paris, this partnership with the United Nations Office for Disaster Risk Reduction (

UNISDR

) and the World Meteorological Organization (

WMO

) works to strengthen Multi-Hazard Early Warning Systems in Small Island Developing States and the world's Least Developed Countries. The Initiative aims to raise USD 100 million by 2020 to help ensure that targeted countries have at least moderate early-warning system and risk-information capacities. (Find out more by watching a video on the CREWS initiative in English or French.)

Strengthening Recovery Systems

. This proposed partnership with

UNDP

seeks to enhance the capacity of highly vulnerable countries to recover from disasters and is part of the larger, UN-led "5-10-50" partnership for risk-informed development.