Planning for Resilience
Cities face a multitude of challenges that are inherently multidisciplinary, complex and interdependent in nature. To effectively manage these challenges and support resilient urban development, the impact of climate and disaster risks must be addressed through a multi-sectoral lens. The approach used by the CRP represents an effort to undertake a fundamental shift in supporting cities to tackle pressing development challenges. Instead of focusing on sectoral priorities, CRP pursues an integrated and spatially-informed approach which captures the interplay between the natural and built environments.
As a starting point for engaging with cities on resilience planning, the CRP has developed the City Scan, which combines large amounts of spatial and socio-economic information pertinent to city-level decision-makers to inform initial dialogue around urban resilience challenges. The City Scan enables cities, World Bank teams, and development partners to engage in preliminary dialogue about natural hazards and disaster risks in key sectors and geographic areas which need to be addressed through coordinated investment.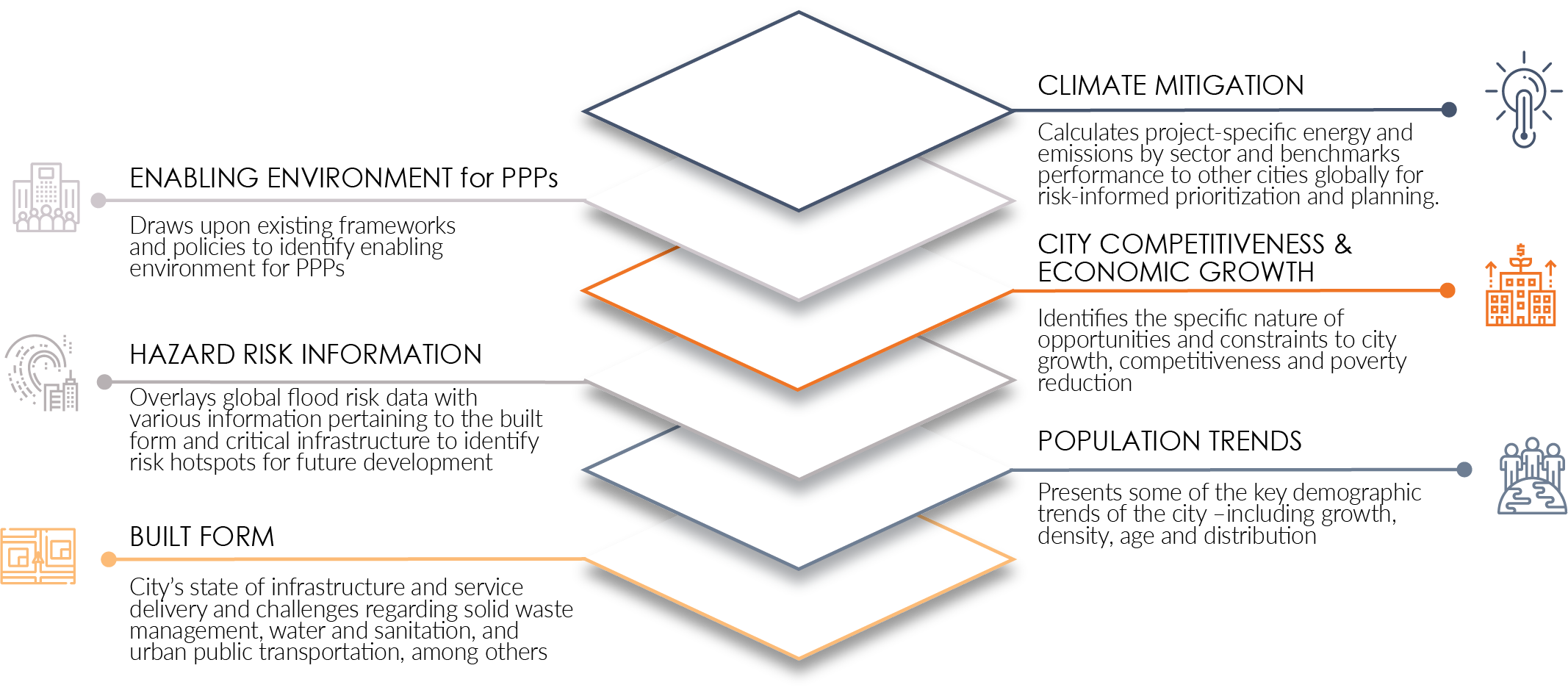 ​
This process is taken further through a workshop series focusing on resilience planning, where participating cities benefit from a diverse range of technical expertise to help package, prioritize and design resilience-enhancing investments anchored on World Bank loans.
Moreover, the CRP supports the incubation of technical teams in areas of strong demand (e.g. emergency preparedness and response) and works to streamline procurement and internal processes to ensure that cities can receive quick and robust technical support throughout the project cycle. In addition, the CRP develops innovative geospatial tools, case studies, and knowledge products which serve to strengthen the analytical foundation of resilience-informed investment planning and expand the suite of tools available to cities.
Resilience Planning Workshop -- Durban, South Africa, November 26-30 2018
In Focus: Resilience Investment Planning Workshop, Durban, South Africa
In November 2018, the CRP's first Resilience Investment Planning Workshop took place in Durban, South Africa. The one-week interactive workshop focused mainly on the Planning for Resilience thematic area of CRP. It brought together officials representing eleven cities around Africa to discuss and refine their s infrastructure investment options in the urban resilience agenda. City delegates were joined by their respective World Bank Task Team Leaders and had access to internal and external technical experts in the areas of solid waste management, housing, urban mobility, geospatial solutions, or urban service delivery and municipal finance, among others.
The workshop featured a mix of ignite presentations, problem and risk mapping and solutions visioning, identification of potential investments and respective investment plans. It resulted in a list of priority infrastructure investments and project proposals for each participating city with preliminary technical and financial specifications. Financing needs identified in these proposals amounted to over $4.8 billion, highlighting the significant need to provide cities the adequate access to capital to fund urban resilience investments.
Aligned with its objectives, the workshop provided the platform to connect decision makers with the relevant and adequate expertise. The interactive format allowed and enabled concrete and tailored support to cities from the technical experts, allowing participating cities to visualize more concretely what approaches could result in more comprehensive, risk-informed investment planning for them.
The workshop also hosted the launch of the newly developed City Scan tool, as a conversation starter and eye opener for risk communication with cities. Furthermore, the pitch day demonstrated that many of the represented cities had concrete project ideas with potential to mobilize private capital. After the workshop, CRP engaged with its financial advisors to seek a path forward to develop these concepts further into well-prepared, risk-informed and bankable projects.