Finance for Resilience
The global infrastructure deficit is well documented and nowhere more acute than in the rapidly urbanizing poorer countries in Africa and Asia. Acting alone, governments often struggle to develop a pipeline of high-quality projects that can attract private sector involvement. Though government funding and capacity in many countries are constrained, with appropriate support there may be an opportunity for governments to involve private sector partners to help deliver, maintain, and finance part of this gap. For many lower income countries, there is a shortage of attractive investment opportunities in all areas of urban infrastructure, particularly those that respond to the pressures of rapid urbanization and climate change.
The CRP supports the provision of upstream operational and technical support focused on mobilizing public and private financing around a broader resilience agenda. The CRP does this through a three phased engagement process to mobilize financing comprising: i) upstream general legal and capacity analysis related to project financing in a specific city and strategic guidance to project teams on potential areas for expanded financing for urban resilience projects in the city; ii) financial and regulatory analysis related to a specific project concept; and, iii) specific transaction advisory services.
CRP's main outputs under this thematic area are workshops discussing options to mobilize finance, deployment of tools such as the completion of rapid diagnostics such as Rapid Capital Assessments (RCAs), and tailored technical assistance. Activities include assistance to identify potential for private capital mobilization through financial advisory services conducting regulatory review, market testing, financial modeling, building the business case, and supporting a potential identification and deployment of financial de-risking mechanisms.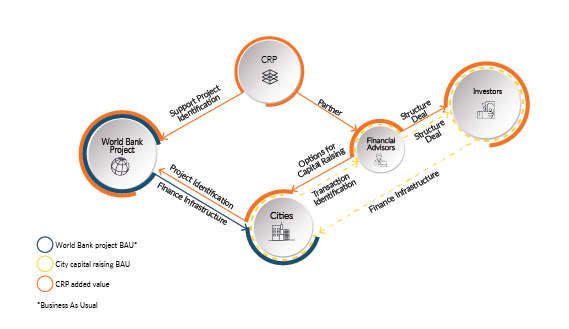 ​
In Focus: Financial Solutions for City Resilience Conference, Bangkok, Thailand
From 9-13 July 2018, the Financial Solutions for City Resilience Conference in Bangkok, Thailand brought together delegates from 20 cities, World Bank task team leaders, technical experts from global financial advisory companies, and private developers to discuss and refine infrastructure financing options in the urban resilience agenda. The conference objective was to help cities navigate a range of options for deploying private capital in resilience building and identify opportunities of mobilizing private finance in cities' capital plans. The conference focused on each type of financial instrument, based on case studies of how these instruments have been used in different markets.
Ahead of the conference and for each participating city, the CRP team carried out an assessment to better understand: i) the real estate market environment and how it enables implementation of various land value capture tools; ii transparency of land and real estate pricing; and iii) the track record of cities' engagement in direct negotiations with private investors including deployment of land-based financing tools (development contracts with infrastructure conditions, assessing impact fees, development charges, etc.). The information collected throughout these assessments was instrumental in tailoring the agenda to the specific needs of participating cities, including contents of working sessions, composition of subject-specific working groups, etc.
At the conference, city delegates had access to technical experts in areas of capital budgeting, municipal finance, land value capture, and PPPs/concessions, who discussed concepts and methods of deploying private-sector financing in the resilience-focused capital investment plans. The event culminated in a "shark tank" event on the final day where city leaders presented their investment ideas to a panel of financial advisors who gave feedback on how to structure the resilience investment opportunities. The conference outputs were integrated into subsequent capital mobilization efforts with the aim to further elaborate and verify the feasibility of identified infrastructure transactions and advance with transaction structuring.
Financial Solutions Marketplace Cohort 1