FACILITATE the MARKET
At present, there is an apparent disconnect between investors seeking opportunities and city leaders looking to finance their infrastructure needs. The market is not sufficiently developed to enable the flow of capital into infrastructure projects in developing countries, and city leaders often lack the expertise to capitalize on existing assets and take advantage of risk-mitigating and capital enhancing mechanisms. Although there is a strong interest to invest in infrastructure in emerging markets and to reap the benefits of high returns, investors face difficulties in deploying their capital because of the perceived risks, high transaction costs and a scarcity of well-prepared projects.
CRP helps reduce transaction costs through supporting market reconnaissance, providing capacity-building to governments to move toward investment readiness, and facilitating the negotiation between cities and investors on specific transaction opportunities.
Build the capacity of cities to raise capital through Public Private Partnerships (PPP), concessions and land value capture (LVC) transactions.
Increase investors' confidence by exploring a suite of risk mitigation tools such as guarantees or credit enhancement to boost the "bankability" of projects.
Connect the Dots
The CRP approach entails a change of paradigm in the way resources are mobilized for infrastructure financing. Rather than aiming to be the sole provider of the financial solution, the World Bank will be the catalyzer for new sources of funding to boost the bankability of capital investment programs. As the bankers of the city, CRP connects city governments with multilateral development banks, bilateral donors and private investors, with an emphasis on building the capacity of cities to raise private capital.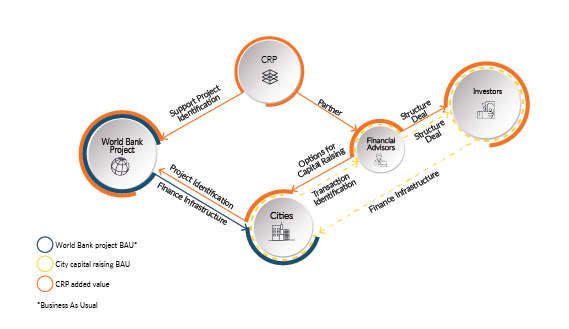 ​
IN FOCUS: FINANCIAL SOLUTIONS MARKETPLACE
The Financial Solutions Marketplace is a one-week long event for World Bank Task Team Leaders, city officials and investment and finance officers to learn about the different ways of structuring resilience projects with private sector participation. The event takes place in the form of presentations and case studies by financial advisors from PWC, Delliotte and others, and small group discussion and peer learning, which culminated at a "Shark Tank event" where each city has the opportunity to present their investment projects in front of financial advisors and get feedback. Specific tools for structuring investment projects that are covered include Concessional Financing, Land Value Captures, and PPP.
So far, two events have taken place, which brought in total 45 cities together and 12 of them has moved on to the Phase II Investment Structuring.